Today's stop on the tour is a guest post that makes my kid and adult heart all kinds of happy, it's . . . The Addicted Couples and Disney Couples. EEEEEEEP!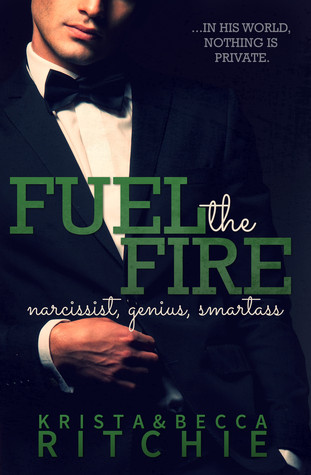 Title: Fuel the Fire
Authors: Krista & Becca Ritchie
Series: Calloway Sisters #3
Pub Date: April 3rd, 2015
Protect your family. At all costs.

It'd take the impossible to hurt Connor Cobalt, even for a moment.

Protect your family. At all costs.

At twenty-six, his narcissistic tendencies have made room for the people he loves.

Protect your family. At all costs.

And he loves Rose. But when his love is threatened, when his greatest dreams with her are compromised — what is the cost then?

Protect your family. At all costs.

Love will guide his choices. For the first time in his life.
Guest Post –
THE ADDICTED COUPLES AND DISNEY COUPLES
We're pairing the Addicted couples with Disney couples that they most resemble. We're primarily looking at the relationship between the couples and not the actual characters. Be warned: There are cute gifs ahead!
LILY CALLOWAY & LOREN HALE
also known as: LiLo
So technically Tinkerbell and Peter Pan never "officially" get together in the book. But you can't deny the unconditional love they have for each other. There is no one else that Tinkerbell would rather be around, and Peter often goes to Tink for guidance/support. They are best friends, first and foremost above everything—just like Lily & Lo.
ROSE CALLOWAY & CONNOR COBALT
also known as: Coballoway
Simba and Nala were rivals growing up, and then they had time apart before rejoining and falling in love. Sound familiar? Connor and Rose were constantly at odds growing up (attending rival prep schools and all). When they went to college, they both drifted apart before reuniting back in Addicted to You. They are the king and queen of the Addicted series, so it's only right to pair them with a fierce lioness and the King of the Jungle from The Lion King.
DAISY CALLOWAY & RYKE MEADOWS
also know as: Raisy
Kristoff and Anna have a very cute relationship. She's a bit naïve and has had trouble in past relationships (ahem Hanz) but Kristoff grounds her with the real truth. He also never represses her, but follows her on her crazy adventures. Ryke is much like this. He's even a loner like Kristoff. Separately, Ryke and Daisy are very different, but together they just work, which is why they most resemble the lovable couple from Frozen.
Krista & Becca Ritchie are identical twins—one a science nerd, the other a comic book geek—but with their shared passion for writing, they combined their mental powers as kids and have never stopped telling stories. Now in their early twenties, they write about other twenty-somethings navigating through life, college, and romance. They love superheroes, flawed characters, and soul mate love.
They are the New Adult authors of the Addicted series and Calloway Sisters spin-off series, and you can find them on almost every social media, frolicking around like wannabe unicorns.
$100 Amazon Gift Card
3 Signed Paperbacks of FUEL THE FIRE
Both giveaways are open internationally!
a Rafflecopter giveaway