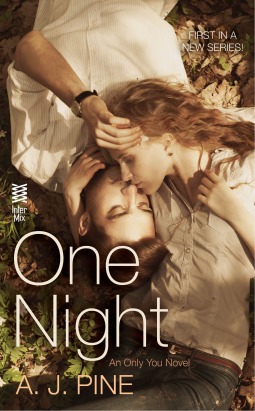 Title:
One Night
Author:
A.J. Pine
Publisher:
InterMix
Release Date:
April 21st, 2015
Pages:
248
Format:
eARC
Source:
Publisher
Age Group:
New Adult
Genre:
Contemporary
When she lost it all, Jess decided to cope by living a lie.
But you can't keep on pretending forever. . .

Twenty-one-year-old Jess used to have everything—a loyal best friend, a boyfriend she loved, and a future that was right on track. But in a single night, her whole world changed.

Now, Jess lives for the impersonal connection of drunken hook-ups and to-go coffee cups in the morning. All she needs is one night to pretend everything is fine…until she meets Adam.

Thanks to a sports injury, gorgeous, charming basketball star Adam Carson is stuck in physical therapy at the hospital where Jess interns—giving her the perfect opportunity to see his sweet, considerate nature and making her realize that maybe she does want something more.

But while Adam might be the best thing that's happened to Jess in a long time, letting him past her carefully constructed walls means letting him know what happened...and why he'd never want her for more than one night.

Includes a preview of the upcoming Only You novel, One Life.
Let me start by saying this is my first time reading an A.J. Pine novel. *gasp* I know, believe me I know. I've seen lots of my bloggers friend rave about A.J Pine and her amazing books and I'm 100% with them. If I would've read her books earlier than I would have joined you all in the love you have for Pine's books because holy shit I will read whatever she has to offer in the future.
I read One Night in one sitting and I was blown away. The emotions Pine can pull out of me is astounding, I haven't ugly cried in a book in awhile. I was on an emotional roller coaster that was never ending; from start to finish I was a mess and I loved every page of this book.
Jess is a character that went through something life altering and devastating. She hasn't really dealt with the pain of what happened and when it all starts to catch up to Jess, she pushes those who care about her away. What I liked most about Jess is that even through those layers she hides from the world, we see glimpses of an amazing-strong woman who deserves the very best life has to offer.
What is it about guys with the name Adam that makes me crush hard on them? Seriously Adam is a keeper and a sweetheart and funny and caring and understanding and yup he's going in my never ending list of fictional boyfriends.
Adam and Jess. Jess and Adam. I have never been so elated to have two characters get to know each other like the way they did. Jess fought against her attraction for Adam but Adam being the charmer that he is, bull dozed his way in and didn't give up. I can't say much without spoiling but Jess and Adam made my heart hurt, really hurt.
One Night is one of those books that will stay with me until the ends of time; it's such a raw and hopeful story and I'm so happy I got the chance to read it. Btw, One Night is definitely going in my Top Reads of 2015.