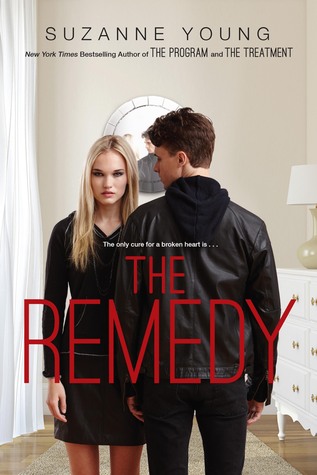 Title:
The Remedy
Author:
Suzanne Young
Publisher:
Simon Pulse
Release Date:
April 21st, 2015
Pages:
416
Format:
eARC
Source:
Edelweiss
Age Group:
Young Adult
Genre:
Science Fiction
In a world before The Program… Quinlan McKee is a closer. Since the age of seven, Quinn has held the responsibility of providing closure to grieving families with a special skill—she can "become" anyone.




Recommended by grief counselors, Quinn is hired by families to take on the short-term role of a deceased loved one between the ages of fifteen and twenty. She's not an exact copy, of course, but she wears their clothes and changes her hair, studies them through pictures and videos, and soon, Quinn can act like them, smell like them, and be them for all intents and purposes. But to do her job successfully, she can't get attached.




Now seventeen, Quinn is deft at recreating herself, sometimes confusing her own past with those of the people she's portrayed. When she's given her longest assignment, playing the role of Catalina Barnes, Quinn begins to bond with the deceased girl's boyfriend. But that's only the beginning of the complications, especially when Quinn finds out the truth about Catalina's death. And the epidemic it could start.
I've been obsessed with The Program ever since my good friend and reading partner in crime, Andy, introduced me to this thrilling new world. And to find out that's Suzanne is still not done with said world made me all kinds of happy. So as soon as it was available on Edelweiss I one clicked so fast that I should probably be called Mrs. Flash.
I never thought I could love The Remedy as much as I do The Program and The Treatment, but Suzanne made it possible. I cried. I laughed. I cried some more. I mean the way Suzanne described closers and the family's grief had me using all my tissue boxes. Right now I'm emotionally exhausted and I only ever get like this after I read one of Suzanne Young's books. The thing about Suzanne's writing is that it's impossible not to feel so much; She has this way of breaking me down and then lifting me up with these scenes she creates. I mean Suzanne writes these characters with such finesse that it makes me forget this is an actual book and not my life.
Quinn, I really liked her. she's really dedicated to her job, she's the best of the best and when Quinn wanted Catalina's life I was like "whoa, shit is about to hit the fan." I didn't think it was possible but I may adore Quinn just as much as I do Sloane ;) Besides the job that she does, a lot of people are going to connect with Quinn and the things she wants.And don't even get me started on Deacon and Aaron, those two guys are my fav. Their friendship with Quinn made this book even more special.
Suzanne Young does a good job of balancing humor and heart break in this story; The Remedy was truly amazing. I loved getting to know what came before Arthur Pritchard created the Program and I am impressed, seeing that side of things was more than I expected. And Revelations are made towards the end that are total GASP-WORTHY moments. I couldn't believe it, I'm still in shock and I need the next book asap. If you thought The Program was hard-core just wait until you read The Remedy.