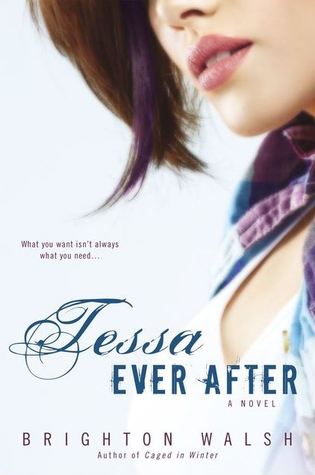 Title
: Tessa Ever After (Caged In Winter #2)
Author
:
Brighton Walsh
Publication
Date
: May 5, 2015
Publisher
: Berkley
Pages
: 304
Source
: Publisher
Format
: Paperback ARC
Age Group
: Adult
Genre
: Contemporary Romance
In this grippingly emotional New Adult novel from the author of Caged in Winter, what you want isn't always what you need…

Jason's been living (and loving) the rich playboy lifestyle for five years, but now his parents are pressuring him to get involved in the family business. The last thing he wants is another obligation, but when his best friend moves out of state and asks Jason to look after his sister, he can't just say no.

Tessa had to grow up way too soon. After dealing with the aftermath of her parents' deaths, then becoming a teenage mom, she knows the meaning of responsibility. Which is why, at twenty-two, she's looking for so much more than a party boy. She's looking for someone who can stand by her and her daughter…forever.

A relationship between them is doomed from the start, but who says they can't have a little fun? But as Jason gets closer to Tessa—and her daughter—fun starts to turn into something else… Something Jason's not sure he's ready for.
Yay for Tessa Ever After! What a great follow-up book to Caged In Winter. I fell in love with Cade in Caged In Winter and I didn't didn't think Cade could be beat, but Jason definitely stole the show here. Jason totally stole my heart!
If you read Caged In Winter you should remember that little snippet we got at the end of Tessa and Jason. At first I was a little hesitant about Jason getting with Tessa because of Jason's party reputation. Jason is all about one night stands and totally against commitment. Tessa on the other hand, has a little girl named Haley, who she had at seventeen, and is really looking to settle down with the right guy. All she wants is someone who would love both her and Haley. She is a hopeless romantic who wants her happily ever after, but is still cautious. So when Tessa and Jason start having feeling for one another, they really don't know whether or not they should act on them. I mean, they have known each other pretty much their whole lives and they know each other better then anyone, so why not? So that means, Tessa knows about Jason's playboy reputation and doesn't want to get hurt. Remember, she has Haley to think about too. And then there is another little thing or person, I should say, that will be a teeny bit upset...... Cade. Cade is going to be pissed! He knows how his best friend is and I am sure he isn't going to want Jason hurting his little sister. Especially since he isn't around to keep an eye on Tessa and Haley. Plus, Jason's parents are making poor Jason's life miserable and are threatening him with cutting him off financially and not pay for his school if he doesn't finally graduate college and start preparing himself to take over the family business. You would think he would want that, but Jase has never wanted to take over his father's company. He and his parents are complete opposites, and that's a good thing.
There are so many adorable moments between Haley and Jason that seriously melted my heart. Any man that can love a child, especially one that isn't his, is a keeper in my eyes. Those scenes really did it for me. So Tessa, if you don't keep him, I will!! LOL

Now lets talk about the "hot and steamy" scenes. Excuse me while I go and fan myself! Brighton really knows how to get our blood pumping, I mean WOW! I am trying really hard here to keep this PG-13, but it's turning out to be pretty hard. (Hehehe) But I will say this, I LOVE all the dirty talk that went on.

After I finished reading Tessa Ever After, I figured out who the next book might be about. I really hope I am right because I REALLY, REALLY love to hear about "their" happily ever after. So my dear friends, I can not recommend this series enough to you. So please, if you haven't read Caged In Winter, go do it now. I promise that you will end up buying Tessa Ever After as soon as you finish Caged In Winter. They are THAT awesome!