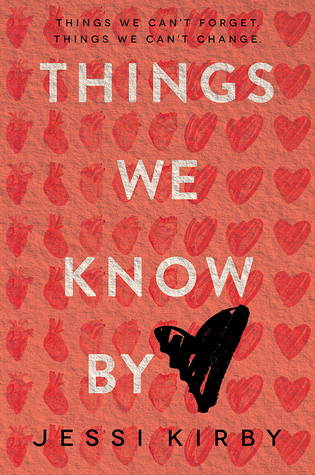 Title:
Things We Know By Heart
Author:
Jess Kirby
Publisher:
HarperTeen
Release Date:
April 21st 2015
Pages:
304
Format:
eARC
Source:
Edelweiss
Age Group:
Young Adult
Genre:
Contemporary
When Quinn Sullivan meets the recipient of her boyfriend's donated heart, the two form an unexpected connection.

After Quinn loses her boyfriend, Trent, in an accident their junior year, she reaches out to the recipients of his donated organs in hopes of picking up the pieces of her now-unrecognizable life. She hears back from some of them, but the person who received Trent's heart has remained silent. The essence of a person, she has always believed, is in the heart. If she finds Trent's, then maybe she can have peace once and for all.

Risking everything in order to finally lay her memories to rest, Quinn goes outside the system to track down nineteen-year-old Colton Thomas—a guy whose life has been forever changed by this priceless gift. But what starts as an accidental run-in quickly develops into more, sparking an undeniable attraction. She doesn't want to give in to it—especially since he has no idea how they're connected—but their time together has made Quinn feel alive again. No matter how hard she's falling for Colton, each beat of his heart reminds her of all she's lost…and all that remains at stake.
I was only a few pages in and I knew Things We Know By Heart was going to break me, it was such an emotional read. This is my first time reading one of Jess Kirby's book and now I understand why everyone loves her books. She pulls at our heartstrings in a way that feels as if we are one with the character. I felt Quinn's pain at losing someone unexpectedly. I felt Colton's need to do all the things he couldn't before. Y'all I connected with almost all of the characters in this story. one way or another we have all been in their shoes, even their family's shoes and I applaud Jess Kirby for capturing all those small significant moments that made me want to hug this book and never let go.
So at first I was a little weird-ed out by Quinn and Colton hanging out but that only lasted like a second. Their first encounter was awkward and cute and they gave me all these fluffy feels. What I really loved about these two characters spending time together was that, without realizing it, Quinn and Colton were actually helping each other out. They were enjoying life like they use to and it was absolutely beautiful.
Also one of the many things that really stood out in this book was the notes we got before starting the next chapter. In each chapter Jess Kirby would give little details about the anatomy of the heart from researchers or doctors and that blew my mind, to be honest I actually looked forward to those tidbits of information.
Jess Kirby took us through the motions of healing. I started off a broken mess when I read the prologue and by the end I felt closure. Things We Know by Heart was amazing and such an uplifting story.