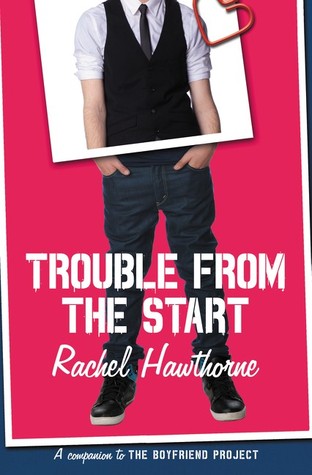 Title:
Trouble From The Start
Author:
Rachel Hawthorne
Publisher:
HarperTeen
Release Date:
April 28th 2015
Pages:
384
Format:
eARC
Source:
Edelweiss
Age Group:
Young Adult
Genre:
Contemporary
One of two companion novels from beach-read favorite Rachel Hawthorne, this cute, romantic paperback original is about a good girl who falls for a bad guy.

Avery knows better than to fall for Fletcher, the local bad boy who can't seem to outrun his reputation. Fletcher knows he shouldn't bother with college-bound, daughter-of-a-cop Avery. But when their paths cross, neither can deny the spark. Are they willing to go against everything and let their hearts lead the way? Or are they just flirting with disaster?

Trouble from the Start releases simultaneously with companion novel The Boyfriend Project. These heartwarming paperback originals are the perfect summer reads, great for fans of Jennifer Echols, Lauren Barnholdt, and Susane Colasanti.
This book caught my attention when a blogger was posting quote teasers on her Instagram. After I went to NetGalley and saw that they didn't have it I tried Edelweiss and they had it and I requested it. Then next day I was approved and reading it and loving it and cherishing every detail.
Im a sucker for banter like I love when two people go back and forth and just have a conversation where the other can keep up and take it. And I LOVE THE BANTER BETWEEN THESE TWO CHARACTERS. I have never shipped someone so quickly as I did with Avery and Fletcher, as soon as they had their fist scene I was like yup you two belong together. Avery and Fletcher are hilarious, they don't back down from one another and I found that quite endearing. Both also brought out the best in each other. Fletcher learned that he could be somebody more than who he is now and Avery learned not to care about others people expectations but her own. Fletcher and Avery fit perfectly and I'm pretty sure you all are going to love these two just as much as me.
Trouble From The Start had a lot of cute and fluffy moments where I smiled so much I thought my mouth would break off. It starting getting cheesy the last few chapters but I still liked it. Both Fletcher and Avery deserved the best and I'm so happy they found it. Trouble From The Start is a sweet ride you'll want to take and I can't wait to read the companion novel "The Boyfriend Project."