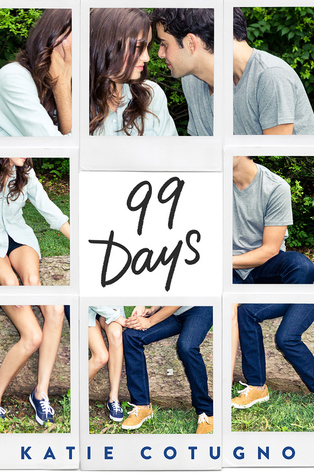 Title
: 99 Days
Author
: Katie Cotugno
Publication Date
: April 21, 2015
Publisher
: Balzer + Bay
Pages
: 384
Format
: Paperback ARC
Source
: ALA/Publisher
Age Group
: Young Adult
Genre
: Contemporary Romance
Day 1: Julia Donnelly eggs my house my first night back in Star Lake, and that's how I know everyone still remembers everything—how I destroyed my relationship with Patrick the night everything happened with his brother, Gabe. How I wrecked their whole family. Now I'm serving out my summer like a jail sentence: Just ninety-nine days till I can leave for college, and be done.

Day 4: A nasty note on my windshield makes it clear Julia isn't finished. I'm expecting a fight when someone taps me on the shoulder, but it's just Gabe, home from college and actually happy to see me. "For what it's worth, Molly Barlow," he says, "I'm really glad you're back."

Day 12: Gabe got me to come to this party, and I'm actually having fun. I think he's about to kiss me—and that's when I see Patrick. My Patrick, who's supposed to be clear across the country. My Patrick, who's never going to forgive me.
My Thoughts: This is a very thought provoking story about the double standards women are still subjected to in society today, a very enjoyable story that I give 3.5 owls! I have to confess that I was originally caught off guard with the subject of cheating being the main idea in this read! Especially since the cheating involves two brothers who share a special connection for the same girl! I think Katie Cotugno did a phenomenal job of illustrating a subject that no one really wants to talk about. In fact; this is my first read from Katie Cotugno and I must say I am pleased☺.
I was drawn to the storyline of this book immediately since in the beginning, we learn that the main character Molly Barlow (Mol's) has cheated on her boyfriend Patrick Donnelly with his older brother Gabe Donnelly. The plot thickens when we find out that Molly grew up with the Donnelly's and that Patrick's twin sister Julia now Molly's biggest critic and bully, was essentially a close friend of Molly's growing up. To make matters even more complicated, the only reason everyone at Star Lake found out of Molly's cheating is named Diana Barlow aka Molly's mother! Talk about being thrown under the bus!!!
In the book we find out that Diana Barlow is a very well-known author who actually adopted Molly when she was forty years old. Diana is known by all as the author of Driftwood a bestselling novel based on her daughter's complicated relationship with two local boys. In fact, the release of Driftwood caused so much turmoil that Molly had to leave Star Lake and head to Arizona without even telling her longtime friend Imogen. It was easier for Molly to run away than deal with the realization that her own mother had publically humiliated her with her friends and most importantly to the world. And so it begins… Molly returns to Star Lake for the summer with the conclusion that 99 Days till her exit to Boston for college shouldn't be too bad. But unfortunately, everyone still hates her and no one has forgotten what she did.
"He was my best friend. He was my first love. I had sex with his big brother. I broke his fucking heart.
It took me some time to come up with a review for this book. This was mainly because I went back and forth trying to decide on a rating and a sensible argument defending my rating. The main reason being that I didn't like the way Molly's character went back and forth between the two brothers. I felt so confused not knowing which one she was really connected to. I would get excited for Gabe one day then the next day Patrick was her love once again. This back and forth went on for the entire 99 days of summer! I also didn't like how Molly seemed to never stick up for herself. She allowed Julia to call her names, make others hate her, and didn't even wink a muscle when Julia went as far as keying her car. I think it's crazy that all of these things took place with Molly just sitting there without defending herself. It was like she was a zombie some kind of doormat that everyone stepped on without a care in the world. This drove me insane as I feel it takes two to tango. There is a small piece at the end of the book where she finally defends herself, but by then I feel it is far too late!
I also felt tangled between Molly's relationships with Gabe, Patrick, and Tess (Patrick's current girlfriend). During the 99 days of summer while working at Star Lake Lodge as a personal assistant to Penn she actually develops a close friendship to Tess who ironically is now close friends with Molly's childhood friend Imogen. The three girls Molly, Tess, and Imogen begin to hang out together and even share secrets together. This triangle of friendship is just the beginning of Molly's summer dilemma. I don't want to reveal too much of the book, but I can tell you things start to get really heated! One can't help but wonder if history will repeat itself, will Molly make a serious mistake once again and lose the trust of the people she's just started to get to trust her again? Can she handle being torn between the two brothers once again? I strongly suggest you take the time to read this book to find out!