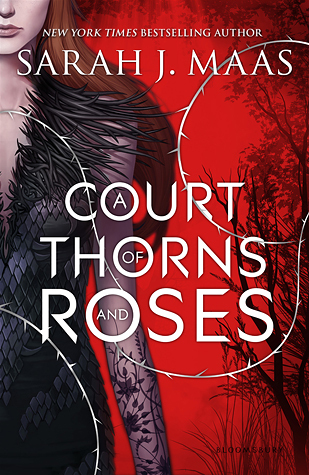 Title
: A Court of Thorns and Roses (#1)
Author
: Sarah J. Maas
Publication
Date
: May 5, 2015
Publisher
: Bloomsbury Children's
Source
: Bought
Format
: Hardcover/e-book (yes, I bought both)
Age Group
: Young Adult/New Adult
Genre
: Fantasy
A thrilling, seductive new series from New York Times bestselling author Sarah J. Maas, blending Beauty and the Beast with faerie lore.

When nineteen-year-old huntress Feyre kills a wolf in the woods, a beast-like creature arrives to demand retribution for it. Dragged to a treacherous magical land she only knows about from legends, Feyre discovers that her captor is not an animal, but Tamlin—one of the lethal, immortal faeries who once ruled their world.

As she dwells on his estate, her feelings for Tamlin transform from icy hostility into a fiery passion that burns through every lie and warning she's been told about the beautiful, dangerous world of the Fae. But an ancient, wicked shadow grows over the faerie lands, and Feyre must find a way to stop it . . . or doom Tamlin—and his world—forever.

Perfect for fans of Kristin Cashore and George R. R. Martin, this first book in a sexy and action-packed new series is impossible to put down!
Wow, I knew people were hyping this book up big time, but I never thought that all the hype was true. Oh. Em, Geee, this book is amazing! Love it! Lately I have been reading books and just skimming through the blurb or not even reading it, just so I can be surprised while I read the story. This was one of those books I didn't read the blurb. Why didn't anyone tell me this was a Beauty and the Beast retelling! I love beauty and the best and this retelling is by far my favorite! I mean it has faeries, what isnt there to love! And that cover? It's perfection! It ties in with the story perfectly. Did I already say I love this book? LOL
What I loved the most:
Everything! Let me say that I admire and seriously love Sarah for giving us such kickass heroines. If you love Celaena Sardothien from the Throne of Glass series, you are going to love Feyre. Despite everything negative and devastating that life has throne at her, she never gives up. She shakes it off and continues to do her best to survive. Now lets talk about Tamlin. The whole time I was reading about him, I was picturing Chris Hemsworth, with a mask of course. I mean look at that face! *le sigh*

What I didn't like:

Honestly, nothing. I loved everything about the book.


Romance:
YESSSS!!! There is some romance and it was perfect, absolutely perfect.
"he spoke again, his breath caressing my ear. ""You're exactly as I dreamed you'd be, too." Darkness swallowed everything."" Page 212
Cliffhanger?
Nope, but it will leave you wanting more. There is a little "incident" that leaves you like "wtf?" I don't get it. What happened?! Ugh! I need to know what that was all about.
Final thoughts:
Here is the thing. Some people are saying this book is new adult, I honestly don't think it is. It is more graphic when it comes to the sex scenes, but I don't see it as an adult nor new adult just because of that. If you read it, what do you think?