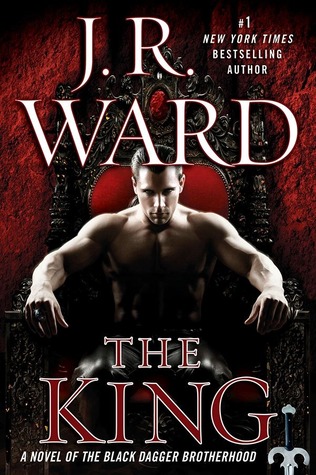 Title: The King (Black Dagger Brotherhood #12)
Author: J.R. Ward
Publication Date: January 1, 2014
Publisher: NAL/Penguin
Pages:573
Source: Bought
Format: Hardcover
Age Group: Adult
Genre: Paranormal
J.R. Ward's # 1 New York Times bestselling Black Dagger Brotherhood continues as a royal bloodline is compromised by a grave threat to the throne.

Long live the King...

After turning his back on the throne for centuries, Wrath, son of Wrath, finally assumed his father's mantle—with the help of his beloved mate. But the crown sets heavily on his head. As the war with the Lessening Society rages on, and the threat from the Band of Bastards truly hits home, he is forced to make choices that put everything—and everyone—at risk.

Beth Randall thought she knew what she was getting into when she mated the last pure blooded vampire on the planet: An easy ride was not it. But when she decides she wants a child, she's unprepared for Wrath's response—or the distance it creates between them.

The question is, will true love win out... or tortured legacy take over?
I couldn't have been more thrilled when I heard that The WARDen was giving Wrath another book. He was the very first. The one that made me fall in love with this series in the first place. But I have one confession to make: I started reading it last year when it was released and couldn't get into it. So I waited another year and started reading it again. I am not going to lie, it took me a while to get into it and there were times when I wanted to quit and start a different book, but I didn't and I am so glad I kept reading it. I mean, it's pretty hard to keep a series interesting with 12 released books. I understand things have to change and new people have to be introduced, but I kind of miss the whole brothers fighting the Lessers thing. Plus, don't get me started on the whole Band of Bastards. I really hate those guys.
WHAT I LOVED:
Wrath and Beth!!! Like I said before, those two are the reason I fell in love with this series in the first place. It was their story that J.R. Ward created to introduce us to their world. So, for her to dedicate another book to Wrath and Beth, made me one happy BDB fan.
I loved the last 1/4 of the book. That doesn't mean I didn't like the first 3/4 of it, it just took that long for me to actually get into it. But believe me, that 1/4 of the book, was amazing and well worth the wait!
WHAT I DIDN'T LIKE:
All the different story lines! OMG it was so distracting and at the time I thought it was pointless, but I understand now why it was done. This series is going into a different direction and we needed to get a peek at what is to come. But it was still very distracting and annoying too.
So many questions!! Like for example, what the hell happened to the Scribe Virgin??? She hasn't made an appearance in forever. And what about the Lessers? Are there just less of them or do we just not care about killing them off anymore? I don't know, I am so confused! LOL
WHAT I LOOK FORWARD TO:
More on the Brothers!!! I want to see how things turn out after the big revelation in the end of the book. This are definitely going to change now. For the better I hope. The next book is The Shadows and it's going to be about iAm and Trez! I am really looking forward to that one. Hopefully I don't have to wait a year to get to it.