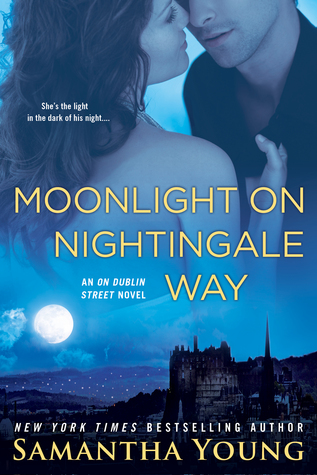 Title
: Moonlight on Nightingale Way (On Dublin Street #6)
Author
: Samantha Young
Publication
Date
: June 2, 2015
Publisher
: Berkley Romance/Penguin
Source
: Publisher
Format
: E-ARC/Paperback
Age Group
: Adult
Genre
: Contemporary Romance
Last in the Series

Logan from Echoes of Scotland Street is back with his own smoldering story, as the New York Times bestselling On Dublin Street series returns…

Logan spent two years paying for the mistakes he made. Now, he's ready to start over. He has a great apartment, a good job, and plenty of women to distract him from his past. And one woman who is driving him to distraction…

Grace escaped her manipulative family by moving to a new city. Her new life, made to suit her own needs, is almost perfect. All she needs to do is find her Mr. Right—or at least figure out a way to ignore her irresistible yet annoying womanizer of a neighbor.

Grace is determined to have nothing to do with Logan until a life-changing surprise slowly begins turning the wild heartbreaker into exactly the kind of strong, stable man she's been searching for. Only just when she begins to give into his charms, her own messy past threatens to derail everything they've worked to build
I can't believe that this is the last book in the series. I don't want to say goodbye. *sniffle sniffle* It's been a long amazing journey and I have truly enjoyed the ride. I still remember when I first heard that Penguin was publishing Sam's new book, On Dublin Street. I was so happy for her because she deserved it. Samantha is an incredible writer and an even better story teller. I cannot wait to see and read what she is going to write next. And you better believe that I will read it!
There is something about a Samantha Young book that grabs you from the first page and doesn't let you go until you have devoured the very last word. Can you tell I love Sam? Moonlight on Nightingale Way was amazing. It was beautiful. It was inspiring and hot! So when I say that you will not be disappointed in it, you have to believe me.
Moonlight on Nightingale Way is the last installment in the On Dublin Street series. Although it is number 6 in the series, it could also be read as a standalone, but I do recommend reading the other books, just so you can understand and get a better feel on the whole "family dynamics" of the story. And let me tell you, there are A LOT of members in this family (LOL), and I love every single one of them. I love the fact that we get to see them all grow up and get married and even have kids. It's a great series and I am going to miss all of them.

I love Logan and Grace. I love their chemistry. When they first meet, they aren't very friendly, but Logan sees something in Grace that he hasn't seen in a long time, hope. He's been through a lot in the past two years and all he wants is to start fresh. But when a little surprise pops up, his world if flipped upside down, but luckily Grace is there and without them even realizing it, Grace has made a place in his heart. But poor Grace has a past too, and just like Logan, she is trying to start a new life. But that past comes back and on her front doorstep and she will have to choose between the life she has now or the one she left behind.

So if you haven't started this series yet, you must be hiding under a rock or something. (just kidding!) But on a series note, this is one of my favorite contemporary romance series, so if you trust my judgment, go out and buy the first book, On Dublin Street at least and let me know what you think of it after you read it. If you are just like me, you will want to devour every singe one after that.