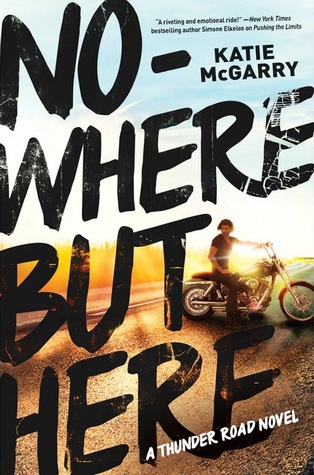 Title:
Nowhere But Here
Author:
Katie McGarry
Publisher:
Harlequin Teen
Release Date:
May 26th 2015
Pages:
496
Format:
ARC
Source:
ALA
Age Group:
Young Dult
Genre:
Contemporary
An unforgettable new series from acclaimed author Katie McGarry about taking risks, opening your heart and ending up in a place you never imagined possible.

Seventeen-year-old Emily likes her life the way it is: doting parents, good friends, good school in a safe neighborhood. Sure, she's curious about her biological father—the one who chose life in a motorcycle club, the Reign of Terror, over being a parent—but that doesn't mean she wants to be a part of his world. But when a reluctant visit turns to an extended summer vacation among relatives she never knew she had, one thing becomes clear: nothing is what it seems. Not the club, not her secret-keeping father and not Oz, a guy with suck-me-in blue eyes who can help her understand them both.

Oz wants one thing: to join the Reign of Terror. They're the good guys. They protect people. They're…family. And while Emily—the gorgeous and sheltered daughter of the club's most respected member—is in town, he's gonna prove it to her. So when her father asks him to keep her safe from a rival club with a score to settle, Oz knows it's his shot at his dream. What he doesn't count on is that Emily just might turn that dream upside down.

No one wants them to be together. But sometimes the right person is the one you least expect, and the road you fear the most is the one that leads you home.
I love biker books. I love biker TV shows. I love anything to do with guys and their motorcycles so when Katie McGarry said her new series would be involving motorcycles I was all over it. Of course I would have had to impatiently wait for the book to release but thanks to our amazing blog creator Ana, I had the absolute please of reading Nowhere But Here ahead of time and it was flat out amazing.
Emily and Oz are two characters that under normal circumstances would run in the same circles due to their upbringing. But due to said circumstances that put Emily in danger these two teenagers are forced to interact and I for one was on board with this. They both were thrown obstacles that made them grow as a character and gosh Emily and Oz together made my heart flutter like crazy.
One of the things I love most from Nowhere But Here is that you get a really good sense of the close relationships people build with their family/friends and I was blown away by the depth Katie McGarry took to make Nowhere But Here extra special. Trust me, you will want your own Reign of Terror club because their bonds are the fierce.
NOWHERE BUT HERE is hands down my favorite Katie McGarry book, I loved this story like no other. Do yourself a favor and go buy this book today!