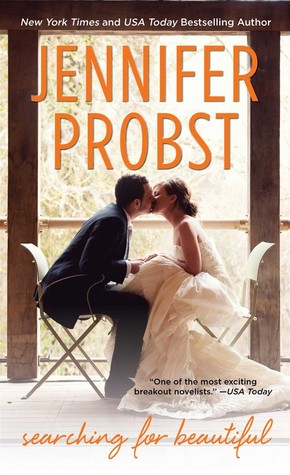 Title: Searching for Beautiful
Author: Jennifer Probst
Publication Date: May 26, 2015
Publisher: Gallery Books
Pages: 384
Format: Paperback ARC
Source: Publisher
Age Group: Adult
Genre: Contemporary Romance
The highly anticipated third novel in the Searching For series from Jennifer Probst, "one of the most exciting breakout novelists" (USA Today), featuring a runaway bride and the man who wants to be more than just her best friend...

Genevieve MacKenzie has her life completely under control. About to wed the charming Chief doctor at the local hospital, she's an up-and-coming surgeon with everything she could ever want. Until an escape through the church window on the day of her wedding sends her life into a tailspin...and flings her right into her best friend's arms.

When Wolfe catches his best friend falling out a window on her wedding day, he doesn't ask questions. He whisks her away, determined to watch over her and discover the truth behind her desperate escape. But when his feelings turn more than platonic, he realizes he may risk his most important relationship in order to protect his damaged heart, and the woman he loves.

Can Genevieve and Wolfe's friendship turn into something deeper—or is it already too late for true love?
Searching For Beautiful was an extraordinary good read. It was thrilling, passionate, and overall romantic. From the moment you start reading the book, you can't help but fall in love with the characters. Jennifer Probst did a phenomenal job of portraying the story of two friends trying so hard to keep their growing connection platonic. I personally fell in love and developed a deeper connection for Wolfe. This connection was influenced by his very dark past and his loving rollercoaster of emotions for his best friend Gen. His personal life struggles and experiences drew me in deeper and deeper as the story developed throughout the chapters. I found myself not being able to put the book down from all of the passion and heart racing sensual tension between these best friends! It was fascinating to see how Jennifer Probst, was able to allow the reader to fully understand the story line without having to read the two previous books Searching for Someday and Searching for Perfect. I specifically enjoyed reading in full detail all of Wolfe's past experiences through his own account.
Genevieve is a beautiful, independent, young medical student who thinks she has her life in order. She is about to marry the Chief doctor (David Riscetti) at the local hospital where she is working on becoming a surgeon herself. Gen as her family and friends call her, is on the verge of having it all: a successful career, a loving husband, and a future full of promise. But even though she has it all, something just seems off. Caught between her own personal struggles and those of her fiancé, she finds herself lost. Not knowing if her decisions are truly hers, she reacts to that inner voice telling her to run… Gen slowly begins to recognize that her fiancé David has an essence alienated her from her family and friends. The plot thickens as she realizes that David has been controlling her every move and decisions! Thankfully, her friends are there to help her pick up the pieces. One in specific friend is willing to do anything to help her find herself again. WOLFE…
Wolfe is a bad ass, handsome, hard working; hotel millionaire who's dark past has held a strong control on his encounters with people. Wolfe is a lost soul, a man full of promise that is at times constrained by his shady upbringing. His mother was a drug addict who would do almost anything to get her fix! The only true relationships Wolfe has been able to keep are those with his mentor and father like figure Sawyer, his wife Julietta, and his best friend Gen. These relationships mean the world to Wolfe and there is nothing getting in the way of ruining them. Not even his loving, sensual, feelings for his best friend Gen. However, Searching for Beautiful changes everything for Gen and Wolfe. The chemistry shared between these two friends is just too overwhelming. And at the end, they both give into their desires and allow themselves to surrender into a relationship that is explosive! I cannot wait to get my hands on the fourth book Searching for Always!