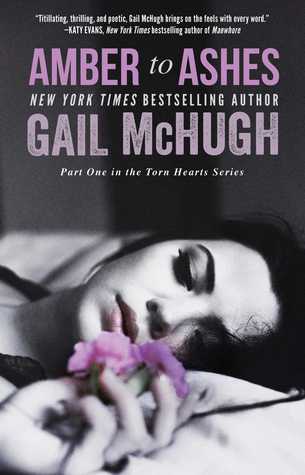 Title
: Amber to Ashes
Author
: Gail McHugh
Publication Date
: June 9, 2015
Pages
: 416
Publisher
: Atria
Source
: Publisher
Format
: e-ARC
Age Group
: Adult/Erotica
Genre
: Contemporary Romance
From the New York Times bestselling author of Collide and Pulse comes a gritty new novel about a shattered young woman who unexpectedly falls for two best friends as she struggles to overcome the trauma of her tormented childhood.

They were a storm I never saw coming, an unforeseen heartbreak on the edge of a dangerous cliff.

Amber Moretti's life changes in the span of minutes. An orphaned outsider, she is desperate to start fresh the moment she walks onto campus. In the time it takes to cross the university's dining hall, she meets two men who bring color, air, and light to her darkened world.

They became my addiction, each a needle to my next hit, my high.

Brock Cunningham's appeal is dizzying, a potent force Amber can't deny. A green-eyed smooth talker, he instantly attracts Amber. It doesn't take long for him to consume her every thought, her every breath.

Ryder Ashcroft, a blue-eyed, tattooed, and pierced bad boy, turns Amber off immediately—that is, until he kisses her, stealing a piece of her heart, her soul.

They were as opposite as fire and ice, yet I ached for them equally.

Never knowing she could be broken down in so many unexpectedly beautiful yet petrifying ways, Amber finds herself falling for both men.

Immoral? Maybe. I say undeniable. Uncontained.

But one event changes everything, shattering each of their lives…and Amber isn't sure she can come back from it.
I had a really hard time deciding on how to write my review for Amber to Ashes. So I took some time to really think about everything before writing it. One thing I am sure of is that I am soooooo Team Ryder. There is something about him that drives me crazy. In a good and "bad" way. ;) I decided to breakdown my review to make it a little easier.
The Cover:
The cover to Amber to Ashes is absolutely gorgeous! I love how everything is black and white but Amber's lips and the carnations in her hard. Absolutely gorgeous! And you all know what a sucker for awesome covers I am. ;)
The characters & Romance:
So when it came to the romance part, there were things I loved and others that I didn't. The sex scenes were Hot, I mean super steamy and hot. Which of course is a plus for me. Love triangles don't really bother me, so when I read the synopsis, I already knew what I was getting myself into, and it didn't matter. What did bother me was how they used sex to block out their past. I understand some people use sex for that, but it just made me feel... I don't know, I can't describe it. Weird? These three characters have all had a pretty bad childhood or horrible experience that have affected them. I feel so bad for them.
Amber, Brock and Ryder all meet in college. From that very moment, they can't stay away from each other. Amber is pursued by both guys, but she only decides to date one. Sorry guys, you have to read the book to find out who. The only problem is that Amber can't stop thinking about the "other" guy and vise versa. Things get pretty complicated after that. Actually, complicated is an understatement.
The ending:
Oh Em Geeeeeee!!! Seriously! That has to be one of the worst cliffhangers ever! As I was reading, I kept looking at the percentage on my iPad and it was at 98%, and I was starting to panic. How are they going to wrap this up? Then 99% and BAM! Huuuuuuge cliffhanger! Ugh! I need book 2 like now! ASAP! So if you like complicated characters and sexy love triangles, Amber to Ashes is the book for you!