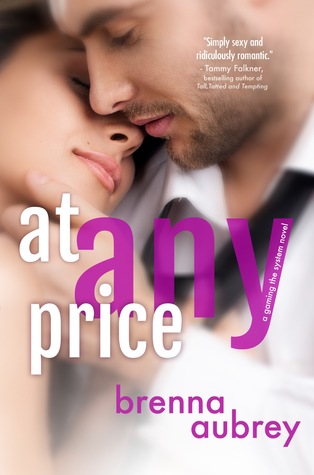 Title:
At Any Price
Author:
Brenna Aubrey
Publisher:
391
Release Date:
December 9th 2013
Pages:
Silver Griffon Associates
Format:
ebook
Source:
Net Galley
Age Group:
New Adult
Genre:
Contemporary
Achievement Unlocked: Geek Virgin

When Mia Strong, proud geek-girl and popular gaming blogger, auctions off her virginity online, she knows she'll make waves. But what she will not be making is a love connection. Her rules are set in stone: One night. No further contact.

It's a desperate step, but it's the only way she can go to medical school and pay her mother's mounting hospital bills.

Difficulty Level: Millionaire CEO

Adam Drake, the enigmatic auction winner, is a software prodigy who made his first million at seventeen. Now, in his mid-twenties, he's sexy, driven and--as CEO of his own gaming company--he's used to making the rules. Before Mia knows what's happening, he's found the loophole in the rules of her auction. Every stipulation she's made to protect her heart gets tossed by the wayside.

She can't tell if he's playing her...or if he's playing for keeps.

This New Adult book is intended for readers over the age of 18 due to adult language, sexual content and adult situations.
At any Price was published in 2013, I'm too years late to this book but I'm so happy Net Galley had it because if not I would've still not known about it. As soon as I read the description I knew this was the book that was going to put me out of my New Adult slump. You see I hadn't read a New Adult book that I could finish in awhile and At Any Price changed that for me.
I really loved that At Any Price starts with a a blog post because hello we readers appreciate blog post and the one the main character Mia wrote had me turning the next page and it will happen to you too so be ready.
Mia is a Virgin and is auctioning her virginity to the highest bidder and that bidder happens to be Adam Drake. In all my days of reading I have never read a story with that plot and I was oh-so-happy with how everything turned out.
I loved Mia,she's sassy, independent and doesn't back down when the going gets tough. As for Adam, he was a force of his own, dominant in all ways and sexy. The relationship between Mia and Adam was a tumble of mixed emotions and when they both come clean about truths unspoken, it was easy sailing from then on out.
At Any Price was a fast paced read that had me laughing and swooning and I SO look forward to reading way more of Brenna Aubrey books.