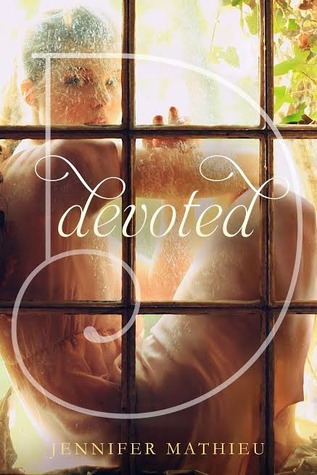 Title: Devoted
Author:
Jennifer Mathieu
Publication Date:
Publisher: Roaring Brook Press
Pages: 336
Source: ALA/Publisher
Format: paperback/ARC
Age Group: Young Adult
Genre: Contemporary
Rachel Walker is devoted to God. She prays every day, attends Calvary Christian Church with her family, helps care for her five younger siblings, dresses modestly, and prepares herself to be a wife and mother who serves the Lord with joy. But Rachel is curious about the world her family has turned away from, and increasingly finds that neither the church nor her homeschool education has the answers she craves. Rachel has always found solace in her beliefs, but now she can't shake the feeling that her devotion might destroy her soul.
I have to be honest and admit that when I read the back of the book I didn't think I could get into the read as much as I did. I don't like to impose my religious beliefs on others and I wasn't sure what to expect. To me, religion is a subject that is somewhat of a complicated and sensitive matter. Therefore, I went into the read with great hesitation. However my entire perspective changed when I realized that Jennifer Mathieu was illustrating a realistically portrayed story about a girl's own identity and struggles outside and within her super-religious family upbringing.
Rachel the main character is being brought up with the duty of taking care of everyone else around her instead of building on her own personal interests and desires. She is responsible for taking care of her siblings and is taught to wear sensible clothing and be a good homemaker. Modesty is key in order not to have any temptations. Although Rachel has a high intellect and helps her family with their landscaping business, she is not allowed to do certain things they consider are inappropriate. Which is why she gets in trouble for using the computer without permission and her parents are thinking of sending her to a religious camp that will more than likely alter her mentally.
However, Rachel finds an escape in a girl who has already escaped the religious cult and writes about her experiences on a blog. Essentially a "run away" she is stable with an apartment and job, but she is still emotionally dealing with the effects of being raised in somewhat of a cult. Together, she shares with Rachel how to break from the brainwashing that has been a consistent for Rachel all of these years.
The author does a phenomenal job at illustrating both of Rachel's wants and desires. We are able to see that she understands what is right and wrong about the cult she grew up in. Rachel is sympathetic to those she once lived with, and yet on the other half of her knows that there is more to the world then what she's been exposed to. Lauren's blog helps her see that there is an entire other world on the "outside" waiting for her to explore. She craves an education, job, and more than the ability to stay home and bare children. I personally do not know how anyone can survive without being able to fully express himself or herself!
This read is full of hope, faithfulness, and love with a small touch of romance. Although , the read is mostly about Rachel finding her own way through the resources some of us take for granted such as books! Incredibly, books are something that are denied to Rachel while living at home. But on the "outside" she is at full liberty to read and access them! By far this book a wonderful realistic story that is not heavy-handed or overly religious. It is straightforward with empathy and caring and it has well rounded characters and a great story line. I definitely recommend reading this book.