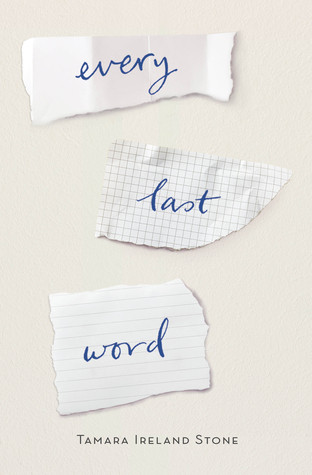 Every Last Word
Author: Tamara Ireland Stone
Publication Date: June 16, 2015
Publisher: Disney-Hyperion
Pages: 368
Source: ALA/Publisher
Format: Paperback/ARC
Age Group: Young Adult
Genre: Contemporary
If you could read my mind, you wouldn't be smiling.

Samantha McAllister looks just like the rest of the popular girls in her junior class. But hidden beneath the straightened hair and expertly applied makeup is a secret that her friends would never understand: Sam has Purely-Obsessional OCD and is consumed by a stream of dark thoughts and worries that she can't turn off.

Second-guessing every move, thought, and word makes daily life a struggle, and it doesn't help that her lifelong friends will turn toxic at the first sign of a wrong outfit, wrong lunch, or wrong crush. Yet Sam knows she'd be truly crazy to leave the protection of the most popular girls in school. So when Sam meets Caroline, she has to keep her new friend with a refreshing sense of humor and no style a secret, right up there with Sam's weekly visits to her psychiatrist.

Caroline introduces Sam to Poet's Corner, a hidden room and a tight-knit group of misfits who have been ignored by the school at large. Sam is drawn to them immediately, especially a guitar-playing guy with a talent for verse, and starts to discover a whole new side of herself. Slowly, she begins to feel more "normal" than she ever has as part of the popular crowd . . . until she finds a new reason to question her sanity and all she holds dear.
You guys this book!! If you love YA contemporary you need to run and get this book (well finish my review first) and then head out (don't walk, run!) and pick up Every Last Word.
Every Last Word hits your right in the feels pretty much every other chapter. It's one of those books that leave you thinking about all the different struggles people go through, from mental disorders, to dealing with terminal illnesses, to the trivial, yet so important in a teenager's life, fitting in school and being accepted.
Samantha is a popular girl, and hangs out with the popular crowd. Being popular though has it's price, she has to keep looking cool and impress not only those who admire her but her very own friends. She has been friends with "the Crazy Eights" since they were little and the first word that comes to mind when trying to describe her friends is frenemies. They are judgmental and not very nice girls, even among themselves. Sam has to hide behind her popular façade when she is with them.
The truth though is that she suffers of a mental disorder called Pure-Obsessional OCD and she is constantly tortured by non-stop thoughts that keep her sometimes from living the normal life she wants to live as a teenager. She has problems sleeping, has anxiety attacks when she finds herself in a situation that makes her uncomfortable, and as a result she starts overthinking things to the point that she is paralyzed with fear.
She sees Sue her psychiatrist every week, and Sue has recommended many times that she branch out and look for new friends and maybe put some distance between her and the Crazy Eights, because they cause her so much grief and stress all time, their friendship is just not healthy. Stepping out of her comfort zone like that and leaving behind what she's always known is easier said than done though, until she meets Caroline.
Caroline will soon become a good friend, someone who doesn't care about what others think and is the completely opposite of her BFFs. Caroline listens to her and she found in her someone she could finally confide in.
Caroline introduces Sam to Poet's Corner, a group of kids from school that meet during their lunch breaks in this hidden room under the school theater.
This is where she meets AJ, or at least where she meets him again. It is here that she will find herself, among these group of outcasts that express their feelings in written form, seriously the last place she would have thought of.
This turns into a type of therapy for her, being able to write down her thoughts and create poetry and share it with this people that have accepted her just the way she is, no need to hide, no need to pretend, she had license to be herself around them.
When everything seems to be going in the right direction though Sam will discover something that will bring her crashing down and will make her question her progress, and threaten to make her lose the new friends she's made and the sense of normalcy she thought she had found.
A story about fitting in and hiding who you are in order to belong. A story of friendship and family. A story that will make you think twice when you assume people can just "get over" some mental disorders. Every Last Word sheds light on this one particular disorder that's very real for many and completely controls their lives and shows how much of a struggle it is to just be normal when you are afraid others won't understand what haunts you.
A story about love and understanding. A story about letting go what's no longer good for you. A story that teaches you that when you think all is lost there is always hope for something better.
Tamara once again delivers a highly emotional story that leaves you thinking long after you are done reading.
I 100% recommend Every Last Word!