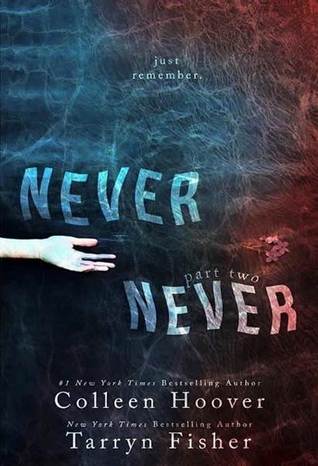 Title: Never Never (#2)
Author: Colleen Hoover & Tarry Fisher
Publication Date: May 17, 2015
Pages: 111
Format: E-book
Source: Bought
Age Group: Young Adult
Genre: Suspense/Thriller
"Never forget that I was your first real kiss. Never forget that you'll be my last.

And never stop loving me between all of them.

Never stop, Charlie.

Never forget."

Silas races against time as more truths unravel, while others twist tighter together. And now, the stakes are higher as Silas' control slips and others begin to point fingers. Charlie is in trouble and he must be the one to bridge the chasm between their past and their present. Because somewhere between I love yous and Never Nevers and Never Agains, a truth they can't imagine, beckons to be found.

"Where are you, Charlie?"
* * This review contains spoilers if you haven't read Never Never, Part 1. * *
Never Never (part 2) picks up right where part 1 left off; Charlie missing and Silas losing his memory, again. Thank you Colleen and Tarryn for answering some of our questions! I was so lost and confused after finishing part 1. But of course, I have even MORE questions now after part 2.

I am totally swooning over Silas now. The love letters he wrote Charlie had my heart melting.
"You love how much I love you. Because yes. I love you way too much. More than anyone deserves to be loved. But I can't help it. You make normal love hard. You make me psycho-love you." ~ 39% Never Never 2, by Colleen Hoover and Tarryn Fisher
We get the chapters again in dual POV, which I love. In part 1, I felt like there was a paranormal element to the story. Especially with the suspicious tarot card reading lady. (She keeps me out by the way) But now, I'm straying away from that idea. I have no idea what to think anymore.
Here is the conclusion I have come to: Colleen and Tarryn are totally messing with us. They are writing this story and laughing at us along the way. They are having little meetings to figure out what more then can throw at us to confuse us even more. Well, ladies, congratulations! We are completely lost. LOL All I ask of you two is for Tarryn to please let Colleen write the ending. Tarryn, honey, you don't do HEA and I know my Colleen will come through for us. You will just kill everyone off and laugh at us! LOL