The ladies over at YA Bound have created a HOT meme, and if you're new to the game, here's how to join in the fun: From the book you're currently reading, or one you just finished, tell us what made you SWOON. What got your heart pounding, your skin tingling, and your stomach fluttering.
Shout it out on Twitter with the hashtag #YABound, or post it here in the comments.
This Swoon Thursday is going to be a tribute to one of our favor paranormal series, The Lux series by Jennifer L. Armentrout! If you are also a fan, you will know that Opposition, the last book in the Lux series officially released last month. So, as a tribute to this "out of this world" series, we decided to feature ALL 5 books! I hope you enjoy.
Which one is your favorite swoon worthy quote?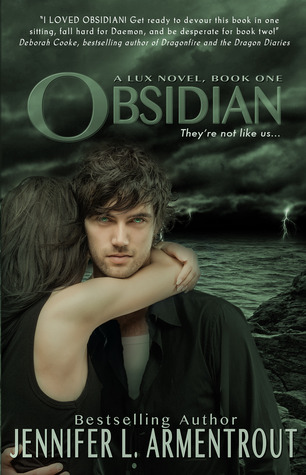 "You're insane." I pressed my back against the wall, breathless. "You probably even dream about me." His gaze lowered to my mouth. I felt my lips part. "I bet you even write my name in your notebooks, over and over again, with a little heart drawn around it."
I laughed. "In your dreams, Daemon. You're the last person I think-"
Daemon kissed me.
There wasn't a moment of hesitation. His mouth was on mine, and I stopped breathing. He shuddered and there was a sound from the back of his throat, half growl, half moan. Little shivers of pleasure and panic shot through me as he deepened the kiss, parting my lips. I stopped thinking. I pushed off the wall, sealing the tiny space between us pressing against him, digging my fingers into his hair.

Obsidian, Jennifer L. Armentrout, Pg. 292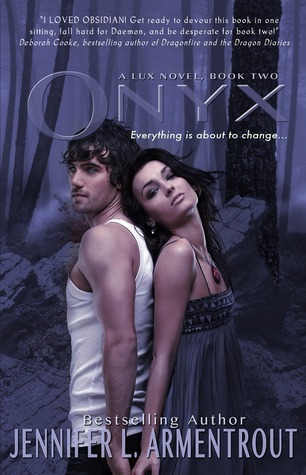 Daemon pressed his forehead against mine. "oh, I still want to strangle you. But I'm insane. You're crazy. Maybe that's why. We just make crazy together."
"That makes no sense."
"It kind of does, to me at least." He kissed me again "It might have to do with the fact that you finally admitted you're deeply and irrevocably in love with me."
I let out a weak, shaky laugh. "I so did not admit that."
"not in so many words, but we both know it's true. And I'm okay with it."
"You are?" I closed my eyes, breathing in what felt like the first real breath in months. Maybe years. "It'd the same for you?"
His answer was to kiss me...and to kiss me again. When he finally lifted his head, we were on his bed and I was in his arms. I had no recollection of moving. That was how good his kisses were.

Onyx, Jennifer L. Armentrout, Pg. 380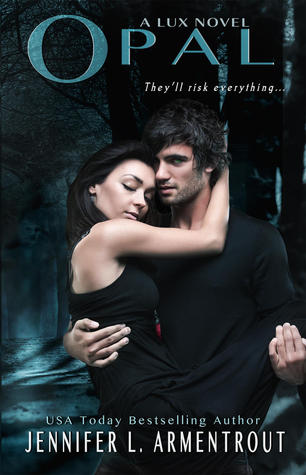 I felt hot. His hands traveled up my outer thighs, under the denim skirt, pushing the material up and up. I bit down on my lip, hard enough that a metallic taste sprung into my mouth. The material really was thin, a fragile almost nonexistant barrier between his skin and mine. I could feel every touch, and even the slightest was like a thousand colts of electricity.

Opal, Jennifer L. Armentrout, Pg. 148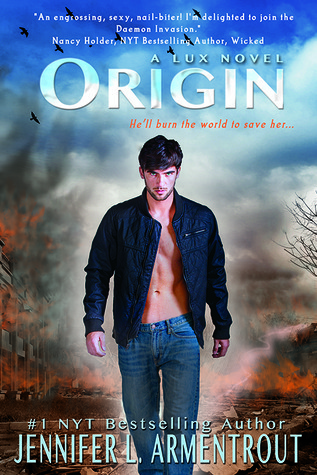 He slipped a hand through my hair, his fingers curling along the back of my skull. The kiss deepened until his taste was everywhere, and there was nothing but us - only us. The rest of the world fell away. None of our problems vanished, but they were put on hold as my mouth opened for him. We kissed like we were famished for each other, and we were. Those kisses intoxicated me, and his fingers moved over my jaw and down my throat, delicately tracing a path. But my hands were greedy and rushed as they slipped over his chest, and I followed the lines of his hard stomach. The way my touch affected him was marveling me. He made a throaty sound, and I melted.

Origin, Jennifer L. Armentrout, Pg. 225-226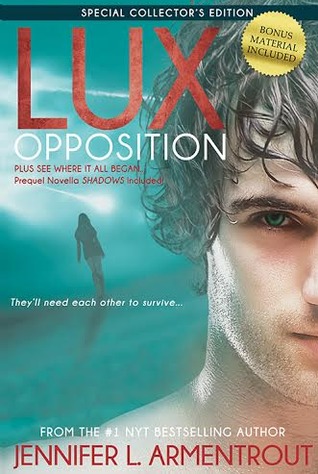 Two fingertips pressed under my chin, guiding my gaze up to a pair of starting green eyes that seemed to carry a sheen of white behind them. "eyes up here, or I'll start feeling like man candy." My cheeks heated, but I laughed. "Whatever." He winked after he drew back the curtain. "After You." I'd never showered with a guy before. Obviously. But even if I had, I don't think it would even remotely touch showering with Daemon Black.
Opposition, Jennifer L. Armentrout, Pg. 146