Welcome to our blog stop for RACING THE SUN by Karina Kalle, hosted by Atria Books! I hope you enjoy my review and don't forget to enter the giveaway!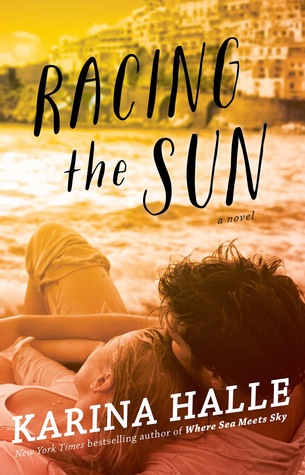 Title: Racing the Sun
Author: Karina Halle
Publication Date: July 28, 2015
Publisher: Atria
Pages: 336
Source: Publisher
Format: eARC
Age Group: Adult
Genre: Contemporary Romance
From the USA TODAY bestselling author of Where Sea Meets Sky comes a new adult novel about a young woman who becomes a nanny in Capri and falls for her charges' bad-boy brother.

It's time for twenty-four-year-old Amber MacLean to face the music. After a frivolous six months of backpacking through New Zealand, Australia, and Southeast Asia, she finds herself broke on the Mediterranean without enough money for a plane ticket home to California. There are worse places to be stuck than the gorgeous coastline of southern Italy, but the only job she manages to secure involves teaching English to two of the brattiest children she's ever met.

It doesn't help that the children are under the care of their brooding older brother, Italian ex-motorcycle racer Desiderio Larosa. Darkly handsome and oh-so-mysterious, Derio tests Amber's patience and will at every turn—not to mention her hormones.

But when her position as teacher turns into one as full-time nanny at the crumbling old villa, Amber finds herself growing closer to the enigmatic recluse and soon has to choose between the safety of her life back in the States and the uncertainty of Derio's closely guarded heart.
So I finally took the plunge and decided to read a book by Karina Halle, and I loved it! I follow her on twitter and Instagram and I remember seeing pictures when she went to Italy for research on RACING THE SUN and they were absolutely beautiful. The ocean had so many different shades of blue that it almost looked like a painting. I can see how she was inspired to write her book.
Amber MacLean is backpacking through Europe in hopes to find herself. She finally starts to run out of money and has no choice but to find a job to make enough money to buy her plane ticket back to California. Even though part of her wishes she could stay. She finds an ad for a job as an English teacher to set of twin kids and since she has an English major, she figures, this is a great opportunity for her. She soon realizes it's a lot more work then just teaching two little kids English. Their older brother Derio, isn't the nicest person and is always locked up in his office doing God knows what. The housekeeper is starting to get fed up with the bratty kids and the never present older brother. But Amber is determined to find out what happened to the Larosa family. Why does Derio have custody of his younger siblings in the first place? Why does Derio lock himself up in his office and refuses to let anyone inside? Something is off and Amber is on a mission to find out what's going on.
Romance:
The romance in RACING THE SUN is awe-mazing! Derio is totally swoon worthy. I mean who doesn't want a hot sexy Italian stallion?! LOL And lets not forget to mention those hot and steamy sex scenes. CALIENTE! Oh wait, that's Spanish, not Italian. LOL Well, you know what I mean.
Overall:
I really enjoyed reading RACING THE SUN. I gave it a 3.5 because I just felt like it was missing something. I think it needed a little more character development. Although I connected with the characters, I somehow felt a little disconnection. But over all I really enjoyed it. I will definitely read more of Karina Halle's books. Especially since I LOOOOOVE the way she described the city. I actually felt like I was there looking at the gorgeous mountains and sea.
Karina Halle is the New York Times bestselling author of Where Sea Meets Sky, The Pact, Love in English, and other wild and romantic reads. A former travel writer and music journalist, she lives on an island off the coast of British Columbia with her husband and her rescue pup, where she drinks a lot of wine, hikes a lot of trails, and devours a lot of books.