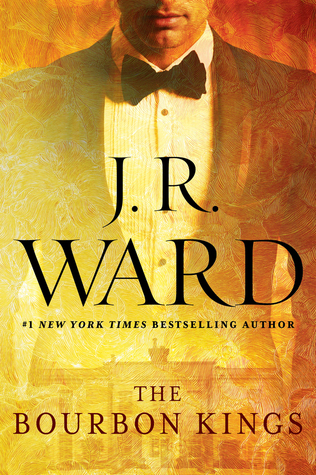 The Bourbon Kings (The Bourbon Kings #1)
Author: J.R. Ward
Publication Date:
Publisher: NAL/New American Library
Pages: 400
Source: Publisher
Format: Paperback ARC
Age Group: Adult
Genre: Romance
The #1 New York Times bestselling author of the Black Dagger Brotherhood delivers the first novel in an enthralling new series set amid the shifting dynamics of a Southern family defined by wealth and privilege—and compromised by secrets, deceit, and scandal....

For generations, the Bradford family has worn the mantle of kings of the bourbon capital of the world. Their sustained wealth has afforded them prestige and privilege—as well as a hard-won division of class on their sprawling estate, Easterly. Upstairs, a dynasty that by all appearances plays by the rules of good fortune and good taste. Downstairs, the staff who work tirelessly to maintain the impeccable Bradford facade. And never the twain shall meet.

For Lizzie King, Easterly's head gardener, crossing that divide nearly ruined her life. Falling in love with Tulane, the prodigal son of the bourbon dynasty, was nothing that she intended or wanted—and their bitter breakup only served to prove her instincts were right. Now, after two years of staying away, Tulane is finally coming home again, and he is bringing the past with him. No one will be left unmarked: not Tulane's beautiful and ruthless wife; not his older brother, whose bitterness and bad blood know no bounds; and especially not the ironfisted Bradford patriarch, a man with few morals, fewer scruples, and many, many terrible secrets.

As family tensions—professional and intimately private—ignite, Easterly and all its inhabitants are thrown into the grips of an irrevocable transformation, and only the cunning will survive.
I have to be honest and admit that when I first started reading this book I didn't know how to feel about the characters and the full display of drama. There were so many questions and so much going on that I thought what kind of mess is this! But shortly after a few more hours of reading, I was blown away by the story of Lizzie King. Lizzie is the Bradford family head gardener at the Easterly and about two years prior, she had crossed the lines with Tulane. Tulane was seen as the prodigal son of the bourbon dynasty. Although their relationship was not intentional, their bitter breakup proved to be too much for Lizzie. She knew that the entire relationship was not only forbidden but also a lost cause. So when Tulane returns to the Easterly two years later with his wife Chantal, the past is put to the ultimate test! Lizzie vowed not to fall for Tulane's charm and to put their relationship behind her.
However, it's almost impossible to forget that Lizzie lost lane to Chantal who claimed to be pregnant with Lane's baby. Mysteriously Chantal loses the baby after managing to get Lane to marry her! Talk about coincidence… So after Lane returns when he receives a phone call old flames are brought to ignition. Lizzie and Lane find themselves still very much in love with one another. And the chemistry between them is just something so hard to ignore. Obstacles are flung at them from all directions. And this is where this story really starts to get interesting. There are suicides, a murder to solve, affairs, and the list goes on to include an arranged marriage, and even theft and corruption. This is just a few of the complications thrown into this wonderful read that will keep you on guessing and questioning everything! All of the characters in this read have a story to tell. And I promise you won't be disappointed in this read.
Although this is my first J.R. Ward read, I must admit that I am hooked. I love the fact that her writing skills are very similar to an actual soap opera. I felt drawn to the characters and I liked the way each character has their own individual story to tell. I also enjoyed the southern charm and the drama behind this romance of broken hearts and shattered lives. I would definitely recommend this read and I look forward to continuing to read more books by J.R Ward in the future.