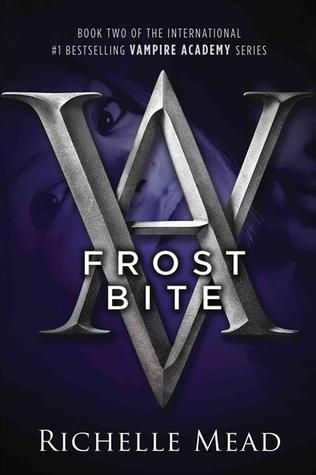 Frost Bite (Vampire Academy #2)
Author: Richelle Mead
Publication: April 10, 2008
Publisher: Razorbill
Pages: 327
Source: Bought
Format: Paperback
Age Group: YA
Genre: Paranormal/Vampires
Rose loves Dimitri, Dimitri might love Tasha, and Mason would die to be with Rose...

It's winter break at St. Vladimir's, but Rose is feeling anything but festive. A massive Strigoi attack has put the school on high alert, and now the Academy's crawling with Guardians—including Rose's hard-hitting mother, Janine Hathaway. And if hand-to-hand combat with her mom wasn't bad enough, Rose's tutor Dimitri has his eye on someone else, her friend Mason's got a huge crush on her, and Rose keeps getting stuck in Lissa's head while she's making out with her boyfriend, Christian! The Strigoi are closing in, and the Academy's not taking any risks... This year, St. Vlad's annual holiday ski trip is mandatory.

But the glittering winter landscape and the posh Idaho resort only create the illusion of safety. When three friends run away in an offensive move against the deadly Strigoi, Rose must join forces with Christian to rescue them. But heroism rarely comes without a price
I am embarrassed to admit that I waited more then 2 years to read Frostbite ("FB"). I read Vampire Academy ("VA") because the movie was releasing and I wanted to read it before it came out. So yes, I am kicking myself right now for waiting so long.
Romance:
In VA we get to meet Rose and Dimitri and we are just waiting for the day where they can be together. Unfortunately, it doesn't happen in FB. So boo! But, I have a feeling that things are going to change in book 3, Shadow Kiss. Fingers crossed! There are also two characters that are fighting for their hearts too, so it makes it even more difficult for them to finally get together.
Christian and Lissa are still together and things get a little more serious between them. In VA I really didn't care for him, much, but he actually grew on me in FB.
Love and Hates:
Seriously, I LOVE Rose. That girl is sooooooo kickass! Love her! I absolutely love everything about her. She is funny, a smartass, badass, and kickass female! I always fangirl whenever I meet female characters that are so tough. Dimitri is just gorgeous and also pretty tough himself.
The one and only thing I didn't like was that it took a while for the story to finally pick up. It dragged for part of the book and I was just waiting for something to finally happen. That is my one and only complaint.
Ending:
The last few chapters had me crying like an idiot. I just can't believe that happened! I can only imagine what else is in store for me. So I better prepare myself for more tears being shed.
Overall:
I totally loved it and I can't wait to start Shadow Kiss next! So if you are like me and still haven't started this series, I suggest you get to it!