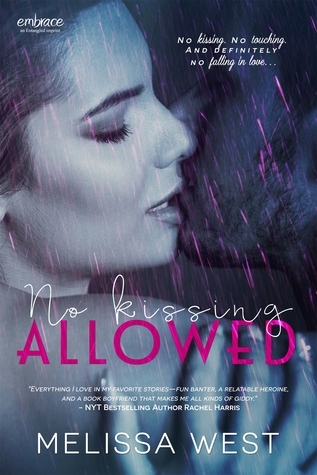 Title:
No Kissing Allowed
Author:
Melissa West
Publisher:
Entangled Embrace
Release Date:
July 28th 2015
Pages:
204
Format:
eARC
Source:
Author
Age Group:
New Adult
Genre:
Contemporary
No kissing. No touching. And definitely no falling in love. . .

Armed with her besties, an embarrassing number of shots, and her list of 10 Wild Things To Do Before Adulthood, recent grad Cameron Lawson is partying it up before she starts her dream job at New York's biggest ad agency. Her last task? Hook up with a random guy. And while it's so not her style, the super-sexy guy sitting next to her is definitely game. No names. No details.

At least, that was the plan.

On her first day of work, Cameron discovers her hook-up is none other than Aidan Truitt—her new boss's boss. Talk about failing the "no fraternizing with coworkers" policy on an epic level. Especially when Aidan makes it clear their one night was only the beginning. Falling for him could cost her everything, but sometimes the only way to get what you want is by breaking a few rules...
I am beyond happy that Melissa West decided to write New Adult. There's just something about the way she tells a story that has me wanting to dive head first into her books.
No Kissing Allowed was beyond amazing and instead of swimming, since it was Fourth of July weekend, I was reading this book by the pool and loving every page.
First off let me say how much I liked Cameron. Cameron was a character that studied her ass off so that she could have a kickass job in advertising and it paid off. She's a woman with a strong head on her shoulders and even when she had doubts she took charge of situations and I really liked that about her.
The day before Cameron starts her new job she has a one night stand and the lucky fellow she hooked up happens to be her bosses boss. I'm a sucker for stories where the boss and his employee have an attraction and Melissa West delivered this storyline with heart.
I swear every time Melissa West writes a new guy character I swoon. Aidan Trait doesn't do relationships, he doesn't like to commit and Cameron is all about the commitment so you can just imagine how those two were around each other.
Cameron and Aidan were perfect for each other. I am behind their relationship 150%. The deep talks they had and all the sexual tension in the air made me one oh-so-happy reader.
No Kissing Allowed was a fast past read that left me wanting to make a list so me and my friends can dare each other to do crazy-awesome things.