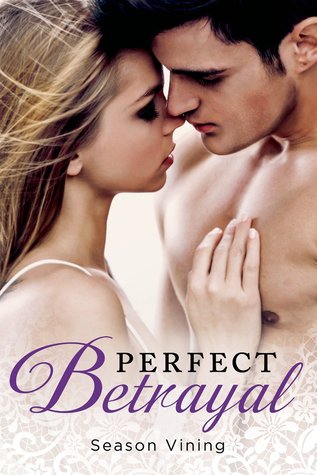 Perfect Betrayal
Author: Season Vining
Publication Date: August 18, 2015
Publisher: St. Martin's Griffin
Pages: 320
Source: Publisher
Format: ARC/Paperback
Age Group: Adult
Genre: Contemporary Romance
To the outside world, Taylor Hudson has it all: beauty, money and social status. But Taylor's privileged life is far lonelier than it appears.

Levi is the inside man on a job to steal fifteen million dollars from one of the town's wealthiest families, putting him on a crash course with Taylor. Neither of them believe in love, but lust. . . that's undeniable.

Now they're locked in a wicked game of seduction and it's unclear who is playing who. But neither of them expected the affair to lead to the deepest connection they've ever experienced. Because beneath Taylor's perfect exterior lies a need for love that mirrors Levi's own. 

As the heist approaches, how can Levi protect Taylor from the truth?  

Is he willing to give up everything to save the one girl who's made him want to be a better man?
WOW. Where do I begin to explain how much I enjoyed reading this book! I absolutely loved the fact that it was the perfect combination of betrayal, lust, and love. In spite of all the drama and conflicts this book is a true example that love can conquer all. And even though money is an important part of life, it doesn't mean anything at the end if you aren't truly happy. The characters in this book were truly amazing. Levi Russo is a sexy 21-year old con artist who was raised on the wrong side of the tracks. Until recently, he has always earned an honest living working hard. But things begin to change when an opportunity presents itself that is too good to pass by. His two best friends and a mysterious "Boss" come up with an idea to steal fifteen million dollars from on of the wealthiest men in town. This is where things get interesting as Levi takes the role of Head of Maintenance at the Hudson mansion. This new job is a cover that will allow Levi to map out the house and search for the safe containing the money. Their plan is to divide the money amongst themselves and make a run for it.
However, things are never as easy as they seem and the plan has a huge distraction named Taylor. Taylor Hudson is the 18-year old daughter who is rich, spoiled, and sassy. Taylor was raised by her nanny Suzanne due to her fathers' busy work schedule and her mothers' traveling. Taylor knows what she wants and isn't afraid to take any prisoners. She is currently spending the summer at her parents' mansion counting down the days to her departure to college (Harvard) to be exact. It doesn't take long before she has her eyes on the tattooed maintenance guy and she can't wait to get her hands on him. She wants to seduce him and make him hers!! But Levi is unwilling to give into a relationship and it takes a great deal of effort before things begin to get steamy between these two. The chemistry and lust is bursting between these two beautiful characters and I loved the way Season Vining was able to make their love story a true representation of no boundaries between LOVE.. Even though all odds are against them it doesn't take long before a passionate, sexy, love affair comes into reality. Without giving too much away of this beautiful love story, all I can say is make sure to read this book to it's entirely. The end is full of twists and turns that will make you want to continue to read and ignore everything. I found myself trying so desperately to avoid any distractions that wouldn't allow me to get the full picture of this wonderful read. Trust me when I say once you start you can't stop!!!
The storyline was sexy and reminded me of the move Ocean's Elven as the characters go about scheming and organizing their heist on the money. Even though this is my very first Ms. Vining read, I absolutely adored the writing and the story line. The characters were believable and the chemistry between them was very sexy and inviting. I liked how Levi and Taylor were always going at each other from the very beginning and even though Levi tries to fight it, he eventually gives in to his passion. Overall I really enjoyed this read and would recommend it as a fun, sexy read full of passion and desire