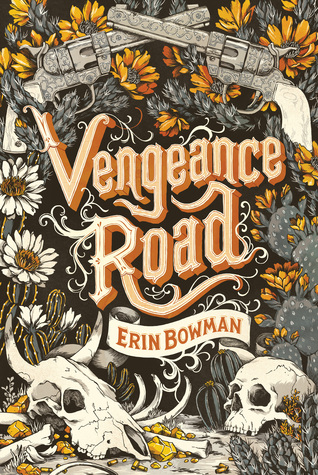 Vengeance Road
Author: Erin Bowman
Publication Date: September 1, 2015
Publisher: HMH Books for Young Readers
Pages: 336
Format: e-ARC
Source: Netgalley
Age Group: Young Adult
Genre: Historical/Western
When Kate Thompson's father is killed by the notorious Rose Riders for a mysterious journal that reveals the secret location of a gold mine, the eighteen-year-old disguises herself as a boy and takes to the gritty plains looking for answers and justice. What she finds are devious strangers, dust storms, and a pair of brothers who refuse to quit riding in her shadow. But as Kate gets closer to the secrets about her family, she gets closer to the truth about herself and must decide if there's room for love in a heart so full of hate.

In the spirit of True Grit, the cutthroat days of the Wild West come to life for a new generation.
The first thing that drew me in to this story was the cover. It is absolutely gorgeous and you all know how I am about covers. LOL But don't let the pretty cover fool you, this book is full of crazy adventures and death. That might sound like a bad thing, but it was the reality back in the late 1800's. People killing each other over gold and the native american's caught in the middle of all this foolishness. After finishing Vengeance Road, I got a glimpse of what it must have been to live in those times. Erin Bowman did an amazing job capturing this time period.
Characters:
Kate Tompson's father is killed and Kate is seeking vengeance. This girl is tough and decides to go hunt down the men who killed her father. In a dangerous adventure, Kate finds some unexpected friends and soon realizes that gold can't buy you happiness nor can it bring back the people you love.
Romance:
Even though there was a lot of violence and death, there was a good romance woven in all the chaos. What I loved the most was that it wasn't rushed. Just like in real life. And sometimes, love isn't planned nor can we have it when we want it. It comes when we are ready and willing to accept it.
Overall:
Vengeance Road really caught me by surprise. I didn't expect to like it as much as I did. I am not into westerns, but this was something different and I actually loved it. I loved the feeling I got after reading it. You know that kind of feeling you get after you watch a movie or a book that opens your eyes about something. This was one of those books. What did I get out of it? That no matter how much money you have, it could never buy you happiness. Money and greed can change a person into something evil and selfish.
I truly enjoyed Vengeance Road. I hope you give it a chance. I know that not everyone is into westerns (like me), but I promise you that you will enjoy it just as much as I did.