Hey, everyone!!! EW released the book trailer for Blood and Salt by Kim Liggett and OMG, you guys, IT'S SOOOOOOO GOOD and CREEEEPYYYY!! I LOVE IT!!!! EW also released an excerpt from Blood and Salt. Click
HERE
to read it.
Romeo and Juliet meets Children of the Corn in this one-of-a-kind romantic horror.

"When you fall in love, you will carve out your heart and throw it into the deepest ocean. You will be all in—blood and salt."

These are the last words Ash Larkin hears before her mother returns to the spiritual commune she escaped long ago. But when Ash follows her to Quivira, Kansas, something sinister and ancient waits among the rustling cornstalks of this village lost to time.

Ash is plagued by memories of her ancestor, Katia, which harken back to the town's history of unrequited love and murder, alchemy and immortality. Charming traditions soon give way to a string of gruesome deaths, and Ash feels drawn to Dane, a forbidden boy with secrets of his own.

As the community prepares for a ceremony five hundred years in the making, Ash must fight not only to save her mother, but herself—and discover the truth about Quivira before it's too late. Before she's all in—blood and salt.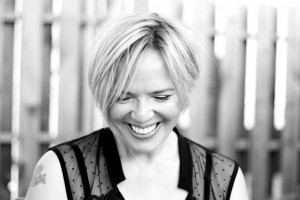 At sixteen, Kim Liggett left her rural midwestern town for New York City to pursue a career in both music and acting. While attending the American Academy of Dramatic Arts, Kim sang backup for some of the biggest rock bands in the 80's.

After settling down to have a family, she became an entrepreneur, creating a children's art education program and a travel company specializing in tours for musicians.

She's married to jazz musician Ken Peplowski, has two grotesquely beautiful teens, and a very neurotic dog that drags her through Riverside Park everyday on the Upper West Side of Manhattan.