Yaaaasssss!!!!!! We have been waiting for Fierce Reads to annouce their fall tour since like, forever! Well, it seems like forever at least. LOL We are even more happy that one of their stops is at my very favorite book store Books & Books!
Here are the Authors, Books and Dates!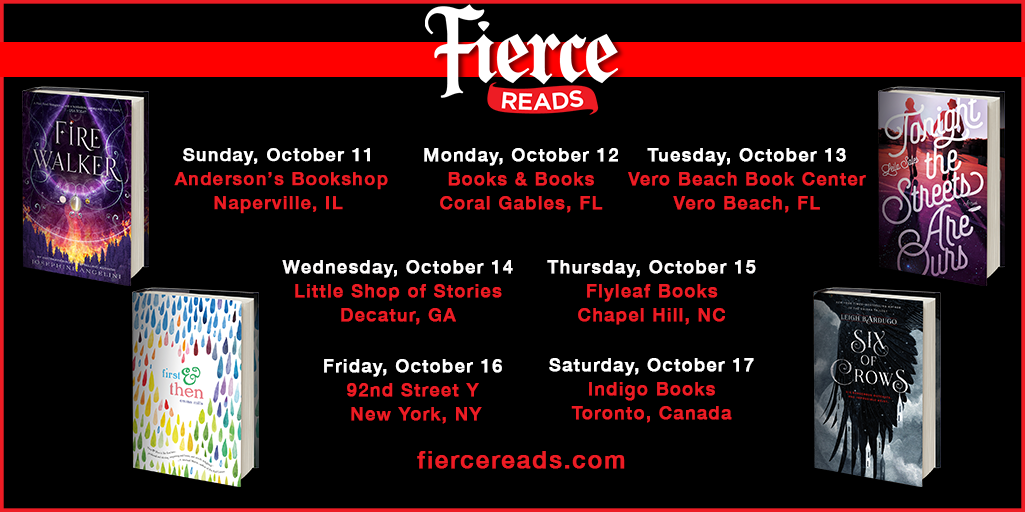 JOSEPHINE ANGELINI is a graduate of New York University's Tisch School of the Arts in theater, with a focus on the classics. Originally from Massachusetts, she now lives in Los Angeles with her screenwriter husband, their baby girl, and three shelter cats. Her debut series, Starcrossed, Dreamless, and Goddess, (Harper Teen) are all international bestsellers and have garnered the praise of various major publications, including the LA Times, and have twice won the Reader's Choice Awards in Germany. The second book in the WorldWalker Trilogy, Firewalker, (Feiwel and Friends, Macmillan) will be out in the US on September 1st.
LEIGH BARDUGO is the New York Times and USA Today bestselling author of the Grisha Trilogy: Shadow and Bone, Siege and Storm, and Ruin and Rising. She was born in Jerusalem, grew up in Los Angeles, and graduated from Yale University, and has worked in advertising, journalism, and most recently, makeup and special effects. These days, she's lives and writes in Hollywood where she can occasionally be heard singing with her band. Her new book, Six of Crows, arrives fall 2015.
EMMA MILLS is a debut author better known to her subscribers as vlogger Elmify. She is also cocreator and cohost of the "life skills" channel How to Adult.
LEILA SALES was born in 1984 and grew up outside of Boston, Massachusetts. She graduated from the University of Chicago with a degree in psychology in 2006. Now she lives in Brooklyn, New York, and works in the mostly glamorous world of children's book publishing. Leila spends most of her time thinking about sleeping, kittens, dance parties, and stories that she wants to write.
265 Aragon Ave, Coral Gables, FL 33134
Don't see an event near you? Don't worry! This fall, for the first time EVER, we will be livestreaming a Fierce Reads event!
*Join Fierce Reads Monday, October 12 at 7pm EST / 4pm PST for an online party of fierce proportions. We're working with Books & Books to livestream their Fierce Reads event and will provide more details as we get closer, but there will be chatting, giveaways, and more!