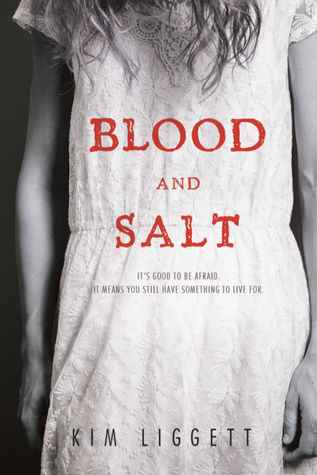 Blood and Salt
Author: Kim Liggett
Publication Date:
Publisher: G.P. Putnam's Sons Books for Young Pages: 352
Source: Publisher/Netgalley
Format: e-ARC
Age Group: Young Adult
Genre: Paranormal
Romeo and Juliet meets Children of the Corn in this one-of-a-kind romantic horror.

"When you fall in love, you will carve out your heart and throw it into the deepest ocean. You will be all in—blood and salt."

These are the last words Ash Larkin hears before her mother returns to the spiritual commune she escaped long ago. But when Ash follows her to Quivira, Kansas, something sinister and ancient waits among the rustling cornstalks of this village lost to time.

Ash is plagued by memories of her ancestor, Katia, which harken back to the town's history of unrequited love and murder, alchemy and immortality. Charming traditions soon give way to a string of gruesome deaths, and Ash feels drawn to Dane, a forbidden boy with secrets of his own.

As the community prepares for a ceremony five hundred years in the making, Ash must fight not only to save her mother, but herself—and discover the truth about Quivira before it's too late. Before she's all in—blood and salt.
I am not going to lie, but when I first saw BLOOD AND SALT, I knew I had to get my hands on it, The cover is so creepy and simple. BLOOD AND SALT is compared to Romero and Juliet meets Children of the Corn. Well, I honestly don't see that. I get the whole Children of the Corn aspect of the story since the whole story is about a village surrounded by a deadly cornfield. The premise of the story is good, but I just felt bored most of the time. It would pick up, and then get boring again. I was expecting it to be really creepy, but I just didn't get that.
The characters were well developed, but they lacked substance. I feel like I need more from them in order to make them memorable. My favorite of all of them is Beth. She is hilarious and I love her! Because who wouldn't love a friend that thinks Hump able means "likeable!" LOL She cracked me up! The two main characters, Ash and Dane fall in love, but because of who their ancestors are, they can not be together. But just like Romeo and Juliet, they don't listen.
I didn't really get a romance feel from BLOOD AND SALT. I never really trusted Dane from the very beginning, so it was hard for me to feel and accept his love for Ash. I do love Ash and her twin brother's love for one another. Twins have a special connection and it shows in this story.
BLOOD AND SALT is the first book in a trilogy. Even though the story is a little slow, I still want to know where Kim Liggett takes it. I will definitely be picking up the next book to see what happens next.