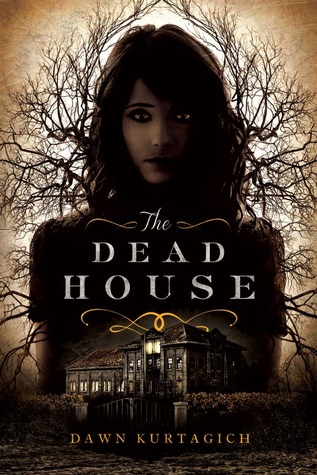 The Dead House
Author: Dawn Kurtagich
Publication Date: September 15, 2015
Publisher: Little, Brown Books for Young Readers
Pages: 432
Source: Netgalley
Format: e-ARC
Age Group: Young Adult
Genre: Mystery thriller/horror
Debut author Dawn Kurtagich is dead on in this terrifying psychological thriller!

Over two decades have passed since the fire at Elmbridge High, an inferno that took the lives of three teenagers. Not much was known about the events leading up to the tragedy - only that one student, Carly Johnson, vanished without a trace...

...until a diary is found hidden in the ruins.

But the diary, badly scorched, does not belong to Carly Johnson. It belongs to Kaitlyn Johnson, a girl who shouldn't exist Who was Kaitlyn? Why did she come out only at night? What is her connection to Carly?

The case has been reopened. Police records are being reexamined: psychiatric reports, video footage, text messages, e-mails. And the diary.

The diary that paints a much more sinister version of events than was ever made publicly known.
The Dead House deserves more then 5 owls. I have never read a book like this. My mind is in a haze right now still trying to reel in what just happened. First I want to mention that I am not a fan of scary books and much less, scary movies. But when I started reading the synopsis for The Dead House, I knew I had to read it. Mind you, I read the book in two days and only could read it during the day. Yeah, I am a chicken shit, but at least I can admit it! LOL The Dead House was insanely good. From the moment I started reading it, I was hooked! I could't stop reading it. I read through the pages like a crazy woman. I needed to know what was going on! I am the type of reader, and even when it comes to movies, that has to try and figure out the "bad guy" before it's revealed. I am really good at figuring it out too, but I couldn't with The Dead House. When I thought I figured it out, Dawn Kurtagich would through another bit of information and it would make me change my mind. It wasn't until the very end, that it all came together and the revelation left me speechless. Yes, I as numb, scared and amazed by the jewel that is The Dead House.
I am not going to sum up the book for you or reveal anything else other than what the synopsis does already. You have to go in blind. The less you know that better. So don't go try to and read reviews because you could get spoiled and that is NOT what you want. What I will tell you is that it's creepy and really good. The characters are so life-like that you feel like you are watching them in real life, which totally kicked up the scary factor up a notch!
The book reminded me of the Blair Witch Project crossed with a Stephen King novel. Everyone knows that Stephen King is known for crazy yet brilliant books. The reason for comparing to the The Blair Witch Project is because of the whole video and diary aspect of the book. I only had the ebook and I loved the pictures, texts and video shots, so I can only imagine what the actual finished book is going to look like. I already preordered it because this baby needs to go up on my self. :)
After I finished reading the book my first thought was, "what did I just read?" Was this real? Did that really happen in real life? I quickly started googling, but didn't find anything, which only means that this all came from Dawn Kurtagich's creative mind, and that just blew me away.
Dawn, you have left me speechless with The Dead House. You are an amazing writer and I loved the way you brought everything together. The formatting with the notes, interviews, everything, was simply brilliant. I can not wait to read you next book. I am now a fan for life. Thank you!