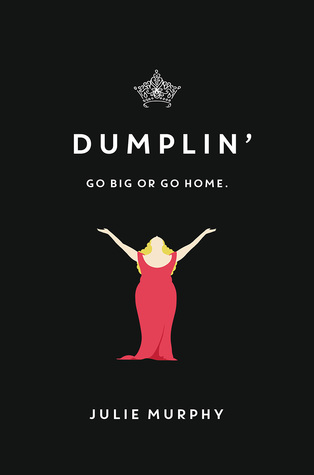 Dumplin
Author: Julie Murphy
Publication Date: September 15, 2015
Publisher: Balzer + Bray
Pages: 385
Format: ARC/Paperback
Source: ALA/Publisher
Age Group: Young Adult
Genre: Fiction
Self-proclaimed fat girl Willowdean Dickson (dubbed "Dumplin'" by her former beauty queen mom) has always been at home in her own skin. Her thoughts on having the ultimate bikini body? Put a bikini on your body. With her all-American beauty best friend, Ellen, by her side, things have always worked . . . until Will takes a job at Harpy's, the local fast-food joint. There she meets Private School Bo, a hot former jock. Will isn't surprised to find herself attracted to Bo. But she is surprised when he seems to like her back.
Instead of finding new heights of self-assurance in her relationship with Bo, Will starts to doubt herself. So she sets out to take back her confidence by doing the most horrifying thing she can imagine: entering the Miss Clover City beauty pageant—along with several other unlikely candidates—to show the world that she deserves to be up there as much as any twiggy girl does. Along the way, she'll shock the hell out of Clover City—and maybe herself most of all.
With starry Texas nights, red candy suckers, Dolly Parton songs, and a wildly unforgettable heroine— Dumplin' is guaranteed to steal your heart.
What an adorable story! I really really liked it. This is a story that I feel all high school kids should read. And to be honest, I think adults can take something from it too. DUMPLIN teaches us to love ourselves and that it's okay to be different because the truth of the matter is, we are ALL different. We all have imperfections. We just have to embrace them and channel you inner Dolly Parton! Wait, what? Yeah, you read that right. LOL Just read the story and you will get what I mean. :)
Ms. Willowdean Dickson, what can I say about you young lady? I absolutely love you! Willowdean, aka, Will, aka, Dumplin, is my hero! Yes, one of her nicknames is Dumplin. Her mother's little nickname for her. Cute if you were skinny, but not so much when you are overweight. LOL So back to what I was saying about Will being my hero. I just loved the girl. She is insecure just like any of us, but she is also confident. Well, that is until Bo showed up. I don't want to say too much about him other then he is adorable too and looks at Will for what she really is. A gorgeous girl not an overweight girl.

Will's mom is a former beauty queen and like every year since she won, she has been part of the Blue Bonnet beauty pageant. She's never made Will enter because, well, she doesn't "fit" norm. After Will's aunt passes away, Will feels lost. Her aunt seemed to be the only one that really understood her because she was a "big" girl too. Through out the book, Will discovers a lot about her aunt and ultimately, about herself. She also has to deal with all the teenage drama that comes with being in high school (boys, friends, parents and school). Then one day she decides to enter the Blue Bonet Pageant! She breaks all the rules and in the end, she makes new friends and comes out a different person. A better and more confident person.

Dumplin was such a great story, especially since I also have insecurities too. I think we all do. Will made me laugh and she made me cry. If there is one thing I learned from her is that we are who we are and if someone doesn't like it, too bad. I am not going to change for anyone.