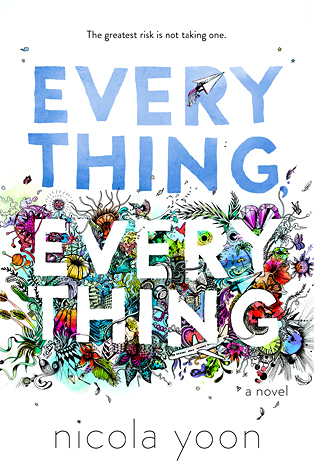 Everything, Everything
Author: Nicola Yoon
Publication Date: September 1, 2015
Publisher: Delacorte Books for Young Readers
Pages: 320
Source: ALA Annual
Format: Paperback ARC
Age Group: Young Adult
Genre: Contemporary
For generations, the Bradford family has worn the mantle of kings of the bourbon capital of the world. Their sustained wealth has afforded them prestige and privilege—as well as a hard-won division of class on their sprawling estate, Easterly. Upstairs, a dynasty that by all appearances plays by the rules of good fortune and good taste. Downstairs, the staff who work tirelessly to maintain the impeccable Bradford facade. And never the twain shall meet.

For Lizzie King, Easterly's head gardener, crossing that divide nearly ruined her life. Falling in love with Tulane, the prodigal son of the bourbon dynasty, was nothing that she intended or wanted—and their bitter breakup only served to prove her instincts were right. Now, after two years of staying away, Tulane is finally coming home again, and he is bringing the past with him. No one will be left unmarked: not Tulane's beautiful and ruthless wife; not his older brother, whose bitterness and bad blood know no bounds; and especially not the ironfisted Bradford patriarch, a man with few morals, fewer scruples, and many, many terrible secrets.

As family tensions—professional and intimately private—ignite, Easterly and all its inhabitants are thrown into the grips of an irrevocable transformation, and only the cunning will survive.
When I first heard about this book, I knew it was going to be special. Ms. Yoon is an incredible and very talented author. I absolutely love her writing. In EVERYTHING, EVERYTHING, her husband helped with the illustrations that went along with the story, which were awesome by the way! The illustrations brought a different element to the story which made it even more special. I just adored everything about the story.
Madeline is my favorite character by far. She has had to live in a bubble her whole life for the fear of dying. You see Madeline has SCID (Severe Combined Immunodeficiency), in other words, she is allergic to the world. Ever since Madeline's father and brother died in a car accident, her mother has been raising her on her own. I felt so bad for Madeline. Such a lonely life and without being able to go outside and explore the world first hand. Although all her limitations, Madeline has a positive outlook on life. I don't know how anyone could be positive being in her situation, but that made me love and admire her even more.
Olly recently moved next door to Madeline. It was so cute reading the part where Madeline was describing him for the first time. It even made me get butterflies. They first start talking through emails and instant messaging, without Madeline's mom knowing of course. Their chemistry is beyond adorable. You can just tell that they are meant for each other. It's only after Maddy meets Olly that she starts thinking about her future. She starts questioning whether being alive is actually living. She starts wanting more, but more means taking risks.
EVERYTHING, EVERYTHING is such an amazing book. It's a story about love and life, and whether we would risk everything including our life to feel alive and follow our heart. Thank you Nicola for giving us such an amazing story.
Below are some of the quotes I loved from EVERYTHING, EVERYTHING. There were so many I wanted to share with you, but I figured I would just pick a few of my favorites and just tell you to please check out the book yourself. I promise you will love it just as much as I did!
Not that I begrudge my life in books. All I know about the world I've learned from them. But the description of a tree is not a tree, and a thousand paper kisses will never equal the feel of Olly's lips against mine. ~ 59%
I reach over and take his hand. "Thank you," is all I can think to say. I want to tell him that it's his fault that I'm out here. That love opens you up the world. I was happy before I met him, But I'm alive now, and those are not the same thing. ~ 64%
You get thrown onto this crazy contraption called life that just foes around and around." People are the luggage in this theory?" "Yes." "Go on." "Sometimes you all off prematurely. Sometimes you get so damaged by other pieces of luggage falling on your head that you don't really function anymore. Sometimes you get lost and forgotten and go around forever and ever." "what about the ones that get picked up?" "They go on to lead unextraordinary lives in a closet somewhere." ~ 67%
"I love you, Maddy."
"I love you Olly. I loved you before I knew you." ~ 76%
Love is worth everything. Everything. ~ 98%