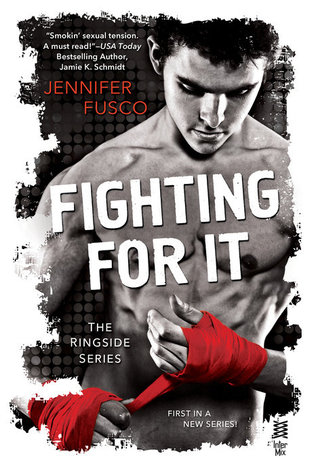 Fighting For It (Ringside #1)
Author: Jennifer Fusco
Publication Date: September 15, 2015
Publisher: Intermix/Berkley
Source: Publisher
Format: e-ARC
Age Group: Adult
Genre: Contemporary Romance
The first in a sexy new series where the hard-hitters of Las Vegas's Stamina boxing gym are K.O.-ed by the women they never saw coming...

After suffering a devastating loss during his last fight, heavyweight boxer Jack Brady's whole career went down for the count. Now, his late manager's daughter has inherited his contract and Jack is pleased to discover that the girl he fell in love with as a kid has grown into a strong, sexy woman—until she makes it clear that Jack has no choice but to get in the ring.

Daniella Chambers is determined to get her father's failing gym back on track with Jack's upcoming fight. She knows Jack's got the talent to become champion and decides to force the unmotivated fighter away from the neon lights of Vegas to train in the seclusion of her lake house. But when they take a time out from their sessions to steam up the bedroom, the urge to win gets all tangled up with their desires.

Now, Jack's fight is swiftly approaching, and the fate of the gym isn't the only thing on the ropes.
Fighting for it is the first book in the Ringside series from author Jennifer Fusco. The story takes place in a Los Vegas boxing gym called Stamina. Jack Brady and Daniella Chambers have a history that dates back to when they were children. However, the history did not end well and it seems that Jack and Dani have unfinished business to attend to. The story begins with Jack boxing under R.L. Chambers management which is run by Dani's late father. Left with the burden and pressure of making her fathers' failing company successful, Dani has no choice but to try to make the best of a less than pleasurable relationship. From the very beginning, you can feel the tension between them. Thankfully, Jennifer Fusco does not make us wait very long before the steamy, passionate, sexual tension is finally released!
Dani is a good girl who believes in Jack's ability to bring her father's failing business back to life. Since inheriting the boxing gym, Dani quickly realizes that the only way to keep the business alive is to win a major boxing match. Therefore, she knows that the guy who broke her heart 10 years prior is the only one that can help her reach her goal. However, Jack is a hot mess! After losing his last match, he is drinking heavily and highly depressed. He has lost all hope and faith in his abilities. And this is where Dani comes to the realization that Jack needs her help. Not to give up too much information, let's just say Dani lets him know she is the boss and I absolutely loved how the story unfolded from this point on.
I personally enjoyed the fact that the book was not solely based on a second chance romance between Dani and Jack, although it was an obvious aspect of this sexy read. I do feel that their chemistry was carefully and wonderfully written. There are also three other Stamina boxers mentioned several times throughout the book that not much information is shared. This makes me believe that the other books in the series may possibly be about them. This read is an ARC so I'm not going to go into full detail about the storyline. I will say that I was utterly impressed by the storyline, characters, and realism of this read. I will definitely be reading more of Jennifer Fusco's books and I am keeping my fingers crossed to get the opportunity to review more Ringside Series books in the near future!!