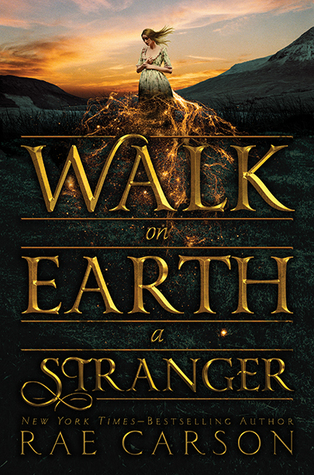 Walk on Earth a Stranger
Series: (The Gold Seer Trilogy #1)
Author: Rae Carson
Publication Date: September 22, 2015
Publisher: Greenwillow Books
Pages: 432
Source: Edelweiss/ALA
Format: e-ARC
Age Group: Young Adult
Genre: Historical
The first book in a new trilogy from acclaimed New York Times bestselling author Rae Carson. A young woman with the magical ability to sense the presence of gold must flee her home, taking her on a sweeping and dangerous journey across Gold Rush–era America.

Lee Westfall has a secret. She can sense the presence of gold in the world around her. Veins deep beneath the earth, pebbles in the river, nuggets dug up from the forest floor. The buzz of gold means warmth and life and home—until everything is ripped away by a man who wants to control her. Left with nothing, Lee disguises herself as a boy and takes to the trail across the country. Gold was discovered in California, and where else could such a magical girl find herself, find safety? Rae Carson, author of the acclaimed Girl of Fire and Thorns trilogy, dazzles with this new fantasy that subverts both our own history and familiar fantasy tropes.

Walk on Earth a Stranger, the first book in this new trilogy, introduces—as only Rae Carson can—a strong heroine, a perilous road, a fantastical twist, and a slow-burning romance. Includes a map and author's note on historical research.
WALK ON EARTH A STRANGER is amazing! I loved this story! The cover is stunning and goes perfect with the story.
WALK ON EARTH A STRANGER is a fast paced read that grabs your attention and leaves wanting it to never end. Right off bat, things go bad for Lee. Alone in the world, she decides to head west to California in search of gold. Lucky for her, and unknown to everyone, she can sense gold. Kind of like a 6th sense. So you can just imagine how handy this can be to her when she is out there digging for gold. But unlucky for her, if anyone evil were to find out.
We follow Lee on her adventure through the Mid-West. Rae Carson describes this time period perfectly! I felt like I was there traveling the harsh terrain of the mid-west right along with Lee and her group. it was beautiful and scary all at the same time. I can't imagine how tiring and hot it must have been for them to go from Georgia all the way to California. As you can imagine, not everyone made it there alive. They lost a lot of people.
One thing I love about this story is how the female protagonist is a badass! As you all know, back then, women had no rights. They were treated like property. But that didn't stop Lee from getting what she wanted.....freedom. Rae also gives us a glimpse as to how it was to be an indian and a black slave during that time. My heart hurt for them. And the "buffalo scene" was the worst! I cried so much for them because I know how the first settlers nearly killed them all off. While the native americans made sure to use every last bit of the animal they killed. So sad.
My one and only complaint about the story is that I expected there to be more "magic", but I am sure I will get more of that in the second book. Which I cannot wait for!
What I say to you might come as a surprise, but WALK ON EARTH A STRANGER is my first book by Rae Carson. Yes, I know, I am always behind on reading, but I promise you that this will NOT be my last. I fell in love with Rae's writing. The way she pays attention to detail makes the world building so much better. It's like you are part of the story.