I am so excited that WALK ON EARTH A STRANGER by Rae Carson releases today and that I get to share the news, along with an awesome giveaway! If you haven't yet heard about this wonderful new series by Rae Carson, be sure to check out all the details below.
I can not begin to tell you just how much I adored this book. Check out my review HERE. Check out the excerpt and the amazing giveaway we have for you!
This blitz also includes a giveaway for a set of the GIRL OF FIRE AND THORNS series (in paperback format). US only. So if you'd like a chance to win, enter in the Rafflecopter at the bottom of this post.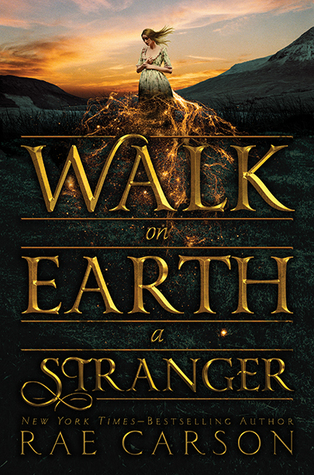 Walk on Earth A Stranger
Series: (The Gold Seer Trilogy #1)
Author: Rae Carson
Publication Date: TODAY! (9/22/15)
Publisher: Greenwillow Books/HarperCollins
Pages: 432
Age Group: Young Adult
Genre: Historical/Paranormal
Lee Westfall has a secret. She can sense the presence of gold in the world around her. Veins deep beneath the earth, pebbles in the river, nuggets dug up from the forest floor. The buzz of gold means warmth and life and home—until everything is ripped away by a man who wants to control her. Left with nothing, Lee disguises herself as a boy and takes to the trail across the country. Gold was discovered in California, and where else could such a magical girl find herself, find safety?

Walk on Earth a Stranger, the first book in this new trilogy, introduces—as only Rae Carson can—a strong heroine, a perilous road, a fantastical twist, and a slow-burning romance. Includes a map and author's note on historical research.
Rae Carson is the New York Times and USA Today bestselling author of the acclaimed Girl of Fire and Thorns trilogy. Her next book, Walk On Earth A Stranger, will be available September 22, 2015. She lives in Arizona with her husband.
Read chapter 1 of WALK ON EARTH A STRANGER annotated by Rae Carson
HERE
!
1 winner will receive a set of the 3 GIRL OF FIRE AND THORNS series (in paperback format). US Only.
Ends on September 30th at Midnight EST!
(Giveaway NOT hosted by OABR)