First of all I want to thank Erin, Jaime, Kassiah, and Meg for hosting this amazing Blog Friends Forever Hop! I mean seriously, there is soooooo much blogger love going around that it makes me feel all warm and fuzzy! Thank you so much, ladies! Make sure you visit our lovely hosts at
How fun is this Blog Friends Forever Hop!? I'm so excited to be a part of it! Thanks so much to Erin, Jaime, Kassiah, and Meg for hosting! Visit our lovely hosts at
Swoony Boys Pocast
and
Fiction Fare
.
Today, the amazing and super sweet, Chayse over at
Books with Bite
is interviewing me.
Q1. Why did you want to start blogging?
I never knew about the book blogging community until Yara from Once Upon A Twilight asked me to be part of her team. That was 4.5 years ago! After almost 2 years, I decided I wanted to start my own blog, and that's when Owl Always Be Reading was born. My very first book I read and reviewed was Twilight! It was also the first book that got me back into reading after I read Harry Potter. Needless to say, those two series will forever hold a special place in my heart. I am sure I am not alone in this. When I first recommended a book to a friend who then went out and bought the book and later came back to me thanking me for sparking her love of reading too, was the best feeling ever! THAT is why I blog about books.
Q2. What has been your most memorable moment?
There have been so many! I think I will narrow it down to book events. The one book event that sticks out was the Miami International Book Fair from last year when I got to meet Anne Martin. If you don't know who she is, she is the author of the Babysitter's Club series! Those were my very first books I collected as a kid. I read them all! So when I found out that Anne Martin was going to be there, I had to go and see her. Lets back up for a second. My plan was to get her new book signed and tell her how much her books meant to me growing up and then just walk away. Well, that's not how it went down. I completely lost it. As soon as I saw her sit behind her table, I started sobbing. I was a hot mess! It was one of those ugly cries that you just can't control no matter how hard you try. I was mortified, but she was so, so sweet! She looked at me and said "you were a big Babysitter's Club fan, huh"? I just nodded and continued with my ugly crying. Below are the pictures of me crying that day. LOL Later on I realized that I must not have been the only person who has come up to her and completely lost it. I mean, how did she know it was because of that series?! She has written so many books after that! I think that day will forever be embedded in my heart.
Q3. Which author would you love to go on a dinner date with?
I would love to go on a dinner date with Colleen Hoover! She is one of my top 3 favorite authors and I think she is absolutely hilarious! I mean, have you seen the stuff she posts on social media?!! Especially when she and Tarryn Fisher get together! LOL
Q4. What advice would you give people who are interested in blogging, but do not know where to begin?
1. DON'T DO IT FOR THE FREE ARCS!! If you plan on starting your own book blogging site, do it for the love of books and helping authors and publishers reach readers who will fall in love with the books. I know we all love to get free books, but with those books comes great responsibility. (I sound like SpiderMan there LOL) But seriously, when you request a galley or ARC, whatever you want to call them, the publishers want you to read and review them. Some publishers like for the review to go up the week before or the week of the release date. It all depends of the publisher.
2. Don't overwhelm yourself, blogging is supposed to be fun! Once it starts to feel like a job, you will start to hate it. Believe me. I've had to take a break from reading and reviewing because it just gets to be too much. Especially if you have a full time job and family to take care of.
3. Be respectful to other bloggers, authors and readers and have fun!
I hope that helps! LOL
Q5. Where do you enjoy reading the most?
Hmmmmm... Well, I love reading in my bed all warm and comfy, but I end up falling asleep within 5 minutes. So that never works. I honestly have to read sitting up at my desk at home or in my car during my lunch break. Is anyone else like that too? Sometimes I feel like I am the only person that can't read in bed. LOL
Q6. What is the most random food combination you have ever eaten?
Oh this is funny! Last year when my hubby went and got some chicken wings from our favorite wings place, and I ended up eating them with a bottle of champagne! We had run out of beer and the Miami Heat were already playing and I wasn't about to go to the store to get some beer. I had a bottle of champagne and I put that baby on the freezer for 30 minutes and then poured myself a glass while I ate my wings. Wings + champagne = classy!
Giveaway #1
There will be 3 winners.
1 - Winner $75 gift card to any book retailer
1 - Winner $50 gift card to any book retailer
1 - Winner $25 gift card to any book retailer
Giveaway #2
One winner will win a paperback copy of LUX BEGINNINGS by Jennifer L. Armentrout
* Hosted by Owl Always Be Reading *
* * Must be 13 or older. U.S. only * *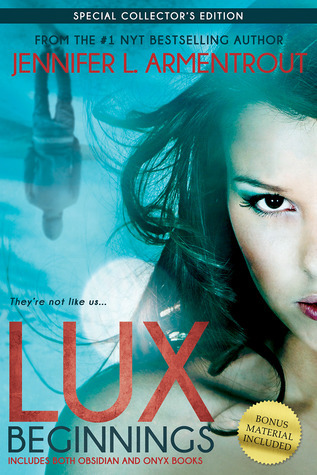 a Rafflecopter giveaway