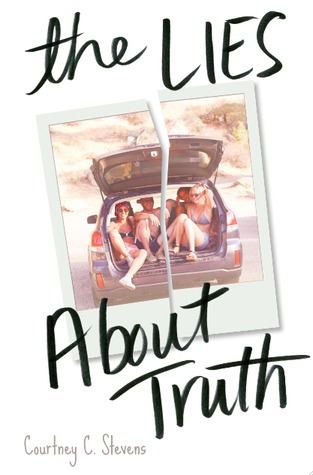 Title:
The Lies About Truth
Author:
Courtney C. Stevens
Publisher:
Harper Teen
Release Date:
November 3rd 2015
Pages:
336
Format:
eARC
Source:
Edelweiss
Age Group:
Young Adult
Genre:
Contemporary
Sadie Kingston, is a girl living in the aftermath. A year after surviving a car accident that killed her friend Trent and left her body and face scarred, she can't move forward. The only person who seems to understand her is Trent's brother, Max.

As Sadie begins to fall for Max, she's unsure if she is truly healed enough to be with him — even if Max is able to look at her scars and not shy away. But when the truth about the accident and subsequent events comes to light, Sadie has to decide if she can embrace the future or if she'll always be trapped in the past.
I am a new fan of Courtney C. Stevens, the way she writes is like a kick to my heart.
Four lives were changed. Four lives were in an accident and lost someone important to them, Trent who was a best friend and a brother. After the accident Sadie completely shuts down. She doesn't want to see people or have them look at her because of her scares. And the only person she feels that can talk to is Max.
Right off the bat I liked Sadie's inner monologue; she was sarcastic and witty and we all know the being witty is my all time favorite thing. Sadie has insecurities, she sees the scares as something that has to be kept hidden. I'm glad Sadie went from being this don't look at me girl to accepting herself. Her character development felt so natural and the journey she took throughout the book was very healing. Also I want Max, he was the sweetest and most understanding fictional guy ever.
I loved freaking loved Courtney C Stevens for the emails that were in the book. Sadie would email max and I'm glad we got to read them because it helped us better understand the relationship between Max and Sadie and how normal they felt towards each other like they didn't need to hide and lie, Sadie emails to Max were everything.
The Lies About Truth was an emotional, uplifting read that you'll be sure to love just as much as me.