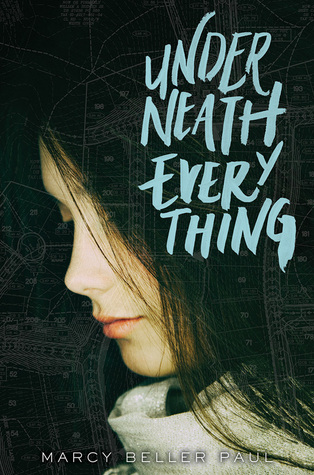 Title:
Underneath Everything
Author: Marcy Beller Paul
Publisher:
Balzer + Bray
Release Date:
October 27th 2015
Pages:
304
Format:
eARC
Source:
Edelweiss
Age Group:
Young Adult
Genre:
Contemporary
Mattie shouldn't be at the bonfire. She should be finding new maps for her collection, hanging out with Kris, and steering clear of almost everyone else, especially Jolene. After all, Mattie and Kris dropped off the social scene the summer after sophomore year for a reason.

But now Mattie is a senior, and she's sick of missing things. So here she is.

And there's Jolene: Beautiful. Captivating. Just like the stories she wove. Mattie would know; she used to star in them. She and Jolene were best friends. Mattie has the scar on her palm to prove it, and Jolene has everything else, including Hudson.

But when Mattie runs into Hudson and gets a glimpse of what could have been, she decides to take it all back: the boyfriend, the friends, the life she was supposed to live. Problem is, Mattie can't figure out where Jolene ends and she begins.

Because there's something Mattie hasn't told anyone—she walked away from Jolene over a year ago, but she never really left.

Poignant and provocative, Marcy Beller Paul's debut novel tells the story of an intoxicating—and toxic—relationship that blurs the boundary between reality and fantasy, love and loyalty, friendship and obsession. .
Underneath Everything surprised me. I thought it wasn't going to like it since my book slump has been going strong. But . . . After I read the first few chapters, it was hard to put down.
Underneath Everything isn't a light read; it deals with topics of toxic friendships and how those friendships can change you and make you co-dependent.
Mattie started off as a character who was trying to figure herself out; it was her last year of high school and she felt like she deserved to do more than just block everything. One of the reasons Mattie blocked out everyone and anything had to with a person and that person was none other than Jolene.

Jolene and Mattie we're friends, if they can even be called that, and they depended on each other and sometimes that dependency turned ugly. I'm glad Marcy Beller Paul included flashbacks because we got a better understanding of how Jolene and Mattie were towards each other.
What I liked most about Underneath Everything was the brutal honesty that Marcy Beller Paul shown in her story; it wasn't pretty, it was intense and real. Mattie had a lot of decisions to make and in the end she did what was best for herself and I loved that she let go of the things that she didn't need in her life.
Underneath Everything will be one of those haunting reads that stays with me forever.