Today we have something really special for you! You all know by now how much I loved CLAIMED by Elle Kennedy. Below is one of my favorite scenes from CLAIMED and I wanted to share it with you! Also, Elle herself, is sharing some juicy details about that scene and why she decided to write it.
We also have an epic giveaway for you. So make sure you enter to win!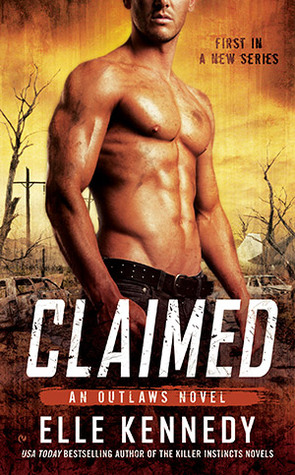 Publication Date: October 6, 2015
Publisher: Signet/Berkley
The bestselling author of the Killer Instincts novels "knows how to write scorching sexual tension" (USA Today). Now she really sets it on fire in a new series about men and women living on the edge of violence, sex, and life and death.
After a devastating war decimated most of the world, Hudson Lane has only known the oppressive life under her own father's tyranny. She finally escapes, branding herself an outlaw and hunted by the Enforcers. Her best chance at survival is Connor Mackenzie, an aggressively sensual fugitive who opens her eyes to the wicked possibilities of a world without rules.
As the leader of a band of outlaw fighters, Connor can't resist the beautiful stranger who asks for his protection. Despite his reservations, he agrees to introduce her to a whole new way of life. But when Connor discovers Hudson's connection to the enemies of liberty, he wonders how far he can trust the woman who has abandoned all inhibitions to challenge every forbidden desire.
CLAIMED by Elle Kennedy
Owl Always Be Reading – Exclusive Excerpt/Elle's Two Cents
Connor spent a very tense twenty minutes waiting for Rylan and Hudson to get back to camp. When Rylan had informed Xan that they had "guests," Connor had immediately assumed the worst—they'd come across a straggler in the woods, they'd run into a group of bandits, they'd captured an Enforcer…
The fluffy thing in Hudson's arms had not been on his worst-case-scenario list.
"What the hell is that?" he demanded.
"We found her in the woods." Hudson's voice held a defensive edge. "We couldn't just leave her there to die."
Connor didn't answer. He drew a long, calming breath, then turned to Rylan. "Are you out of your mind? Why would you let her bring it back here? The last thing we need is another mouth to feed."
Rylan glanced at Hudson. "Told ya he'd say that."
"I don't care." She stuck out her chin and leveled a determined look in Connor's direction. "I'll feed her myself. She can share my portions."
Disbelief and irritation mingled in his blood. "The damn thing can't eat stew, Hudson. She can't be more than a month old—she needs her mother's milk."
"Well, her mother's dead." Hudson was glaring at him now. "And she'd be dead too if we hadn't saved her."
Connor raked a hand through his hair. It was growing out and he needed to cut it, but right now he appreciated the length because he needed to grab on to something before he throttled the woman.
Christ, it was one distraction after the other with Hudson. Ever since she'd shown up, he'd lost sight of what mattered most to him—finding Dominik. And fine, Hudson had unwittingly brought him a step closer to that goal by telling Xander about the Enforcer comm program, but Connor knew he'd be riding Xan a lot harder about hacking it if he weren't so infatuated with her.
It was time to stop thinking with his dick, damn it. Dominik needed to be his only concern. Vengeance needed to be his only concern. He'd tried his damnedest to be who his wife needed him to be, and though he might have failed her in life, he sure as hell wasn't going to fail her in death.
He couldn't let Hudson keep distracting him, and he couldn't keep indulging her every whim. Allowing her to scrub and organize cabins that were better left empty. To clear out the barn so it could serve as a gathering place one day. And now she was bringing home wolves?
Enough was enough.
"The wolf goes," he said flatly.
Hudson's jaw tightened. "If she goes, I go."
"Fine. Then go," he shot back. "I don't have time for this bullshit. I'm not about to have a wolf running around camp and have to sleep with one eye open in case it tries to rip my throat out."
Hudson's laughter annoyed the hell out of him. She held up the tiny creature and said, "You think she'll rip your throat out? She still has her baby teeth! She can't even bite through the skin of a tomato!"
"She won't stay a baby forever. How do you think she'll behave when she's a full-grown wolf?"
"She'll behave perfectly, because I plan on training her." She gave him a smug look, then added, "I'm not giving her up, Con. So you can either throw us out, or suck it up."
His chest rumbled with aggravation. "For chrissake!"
A chuckle from behind him drew his attention to the porch, where Xander and Kade were watching the exchange in amusement. So was Pike, who was leaning against one of the wooden posts, his dark eyes revealing nothing, as usual.
Connor stifled another curse when Hudson dismissed him by turning to Rylan. "How do we get her some milk?"
"Um . . ." Rylan's expression conveyed visible unease, as if he knew how close Connor was to pulling out his gun and shooting his own brains out.
Jesus Christ. He couldn't believe they were even having this conversation. Wolves didn't belong at camp. End of fucking story.
Was he the only levelheaded person here?
"Don't answer that question," he snapped at Rylan. "The wolf isn't staying."
Hudson's eyes blazed. "So then you're ordering me to leave?"
He scowled at her, and it was on the tip of his tongue to follow through with the threat. To tell her to get out and take her new pet with her. But much to his annoyance, the words refused to leave his mouth, which led to a heated glare session between him and Hudson.
"I'll get the milk."
The gruff announcement came from Pike.
Hudson looked over in shock. "You will?" Her tone grew suspicious. "How?"
Pike strode toward them, his heavy boots kicking up dirt with each step. "We get dairy products from a farm about sixty miles north of here. I usually pay them a visit once a month." His dark gaze flicked to Connor. "I know I'm not scheduled to go until next week, but I can take one of the bikes and leave now."
Connor was dumbfounded. "Are you insane?" He glanced at the others, none of whom had backed him up. "Have you all gone insane?"
Rylan shifted awkwardly.
Pike and Kade didn't answer.
It was Xander who finally spoke up. "Ah, come on, Con. Look at that little face. She's adorable."
He couldn't bring himself to look at the wolf. Couldn't look at Hudson, either. Anger burned in his blood. Anger and frustration and an odd jolt of helplessness that made him want to throw something. Jesus. He was losing control of them.
"Screw this." He clenched his teeth and took a step away. "You know what? Do whatever the hell you want. Obviously you've all lost your fucking minds."
Then he turned on his heel and stalked off.
Ana:
The Excerpt above is one of my favorite scenes from CLAIMED. Well, at least one that wasn't too explicit and PG-13 appropriate. LOL I also picked it because I love how Hudson stood up to Connor! Connor can be veeeeery intimidating, but Hudson knows how to handle him and this scene really proves it! Plus, how could I not love it when by Pike, decided to step in and save the day! Here is this huge, badass tough guy, risking his life to get milk for an orphaned wolf cub! A man who loves animals like that is beyond sexy!




Make sure you continue reading after the excerpt because Elle explains how she decided to write this scene into CLAIMED. Her reasoning is perfect!
Elle:
There is actually a funny story behind this scene. Or rather, behind the introduction of the wolf. A close author friend of mine writes shifter romances, and we have fun with that because I absolutely refuse to read shifter romances. So I'll read everything she writes except those ones. Or if she does twist my arm into reading them, I skip all the shifting parts.

I thought it would be fun to give the heroine a pet that the hero would freak out about, so when it was time to choose the pet, I made it a wolf in my friend's honor. And when she read that scene, she emailed immediately to ask, "OMG, is the wolf going to shift into a sexy man???" And I was like, um, never!
Someone please give me a fan because this book was HOTTTTT!! It's been a while since I have read an erotica book, so I guess I forgot how hot they can be. LOL Claimed is the first book I have read by Elle Kennedy, and I promise you, it will NOT be my last. This book was awesome! At first I was a little annoyed about all the sexual tension between the two main characters, Hudson and Connor. I don't know if you are like me, but if I read a story, I want there to be a plot. I don't just want people having sex left and right and there not be a story line. Well, at first I thought that was the case, but then the story took a turn for the best and the story started developing. It was perfect! I couldn't put it down. I was so invested in their story and their chemistry. I loved every minute of it. Also, I love the way Elle writes. She created this messed up world and actually made it believable.
Characters:
I loved each and every character. They each stood out to me in their own special way. They were all so different and with their own special personality. Some made me laugh and some made me get teary eyed. I can't wait to read more about them. I hope Elle gives up more information about their pasts because in Claimed, we get only a little peek.
Romance:
Is there romance? YES! Is there hot sexy scenes? YESSS!!! Will I have to take a cold shower after reading? OMG, YASSSSSSSSS!!!! I think that about sums this up. LOL
Ending:
I was on the edge of my seat while reading the last few pages of the book. We learned about a few things that we thought were true, actually weren't. Which turns out to be a complete game changer now. Can I have the second book now?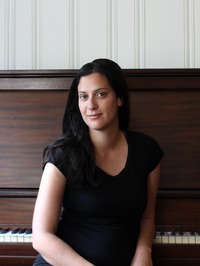 A New York Times, USA Today and Wall Street Journal bestselling author, Elle Kennedy grew up in the suburbs of Toronto, Ontario, and holds a B.A. in English from York University. From an early age, she knew she wanted to be a writer, and actively began pursuing that dream when she was a teenager.

Elle writes romantic suspense and erotic contemporary romance for various publishers. She loves strong heroines and sexy alpha heroes, and just enough heat and danger to keep things interesting!
* * Must be 18 or older to enter. U.S. Only * *
Here is what one lucky winner will get!
--signed copies of The Deal and The Mistake
--signed copies of 3 books in After Hours series
--signed copy of As Hot as It Gets (Out of Uniform)
a Rafflecopter giveaway