Hey my South Florida friends! Did you hear that The Fierce Reads Tour is coming to Books & Books on October 12th? Well they are and these lovely ladies are going to rock the house! For those of you that won't be able to make it, you can live stream it
HERE
!
Also, Books & Books will ship ANYWHERE in the US for free! So if you want a book by one of these ladies, make sure you go
HERE
and preorder your book! You can even get it personalized or just singed!
Everyday this week we will be featuring one of the authors from the tour. Today we bringing you the lovely, Leila Sales!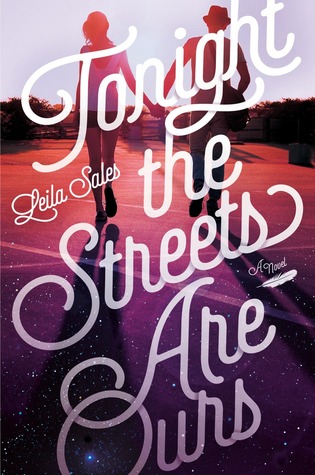 Recklessly loyal.

That's how seventeen-year-old Arden Huntley has always thought of herself. Caring for her loved ones is what gives Arden purpose in her life and makes her feel like she matters. But lately she's grown resentful of everyone—including her needy best friend and her absent mom—taking her loyalty for granted.

Then Arden stumbles upon a website called Tonight the Streets Are Ours, the musings of a young New York City writer named Peter, who gives voice to feelings that Arden has never known how to express. He seems to get her in a way that no one else does, and he hasn't even met her.

Until Arden sets out on a road trip to find him.

During one crazy night out in New York City filled with parties, dancing, and music—the type of night when anything can happen, and nearly everything does—Arden discovers that Peter isn't exactly who she thought he was. And maybe she isn't exactly who she thought she was, either
LEILA SALES was born in 1984 and grew up outside of Boston, Massachusetts. She graduated from the University of Chicago with a degree in psychology in 2006. Now she lives in Brooklyn, New York, and works in the mostly glamorous world of children's book publishing. Leila spends most of her time thinking about sleeping, kittens, dance parties, and stories that she wants to write.
Q: What are 5 random facts about yourself?
1 – I type using only two fingers.
2 – My middle name is a boy's name.
3 – I can recite the name of every student in my high school class in alphabetical order.
4 – I own more than 100 original My Little Ponies.
5 – For five years I received so many text messages from strangers that I started a blog about them: theleilatexts.blogspot.com
Q: If you were hosting a literary dinner party, which six authors or characters would you invite?
A: I'd invite my closes author friends: Rebecca Serle, Lauren Oliver, Jocelyn Davies, Courtney Sheinmel, Lexa Hillyer, and Jess Rothenberg. Whenever we hang out together, we always have a blast and laugh so hard and inspire each other. What more could I want out of a dinner party?
Q: What can you tell us about your new book, Tonight the Streets Are Ours and what do you hope readers take from it?
A: TONIGHT THE STREETS ARE OURS is about a teen girl who becomes fascinated with a blogger from afar. Based on what he writes about his life, he seems perfect—he seems to get her in a way that nobody who knows her in real life does. So she sets out on a road trip with her best friend to track him down in person. Over the course of one epic night in New York City, she comes to realize that he's not exactly who she expected him to be based on his online persona. There's a lot that I'd like readers to take away from this book, but one of the main ideas is that everyone lies by omission online. The way people present themselves online is a curated version of themselves, and you should try to understand that whatever you're seeing there is only one part of their whole life story.