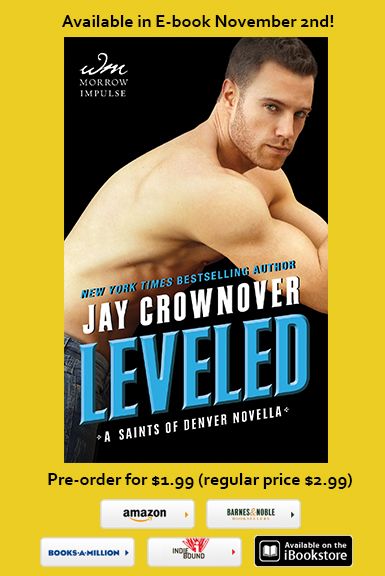 Jay Crownover's Marked Men have all found their perfect matches…or have they? When Rule and Rome's brother Remy died, he left behind not only his family and his best friend Shaw, he also left behind Lando, the man he loved. Now, finally, Lando will have the happily ever after he so richly deserves in the e-novella LEVELED, on sale from William Morrrow Impulse November 2nd, but available at the special pre-order price of $1.99!
With the surprise release of LEVELED, readers will get a look back at their beloved Marked Men, but will also get a peek at characters from Jay's upcoming series, Saints of Denver, along with a chapter of BUILT (on sale from William Morrow Paperbacks January 5, 2016). This novella will only be available for pre-order for two weeks, at the special price of $1.99. Once it goes on sale, readers will be able to download Lando's HEA for $2.99.
We all need a hero...let the Saints of Denver begin.

Orlando Frederick knows what it is to be leveled by pain. Instead of focusing on his own, he's made it his mission to help others: sports stars, wounded war vets, survivors of all kinds. But when Dom, a rugged, damaged, sinfully attractive cop makes his way into Lando's physical therapy practice, he might be the biggest challenge yet. Lando loved one stubborn man before and barely survived the fallout. He's not sure if he can do it again.

Dominic Voss is a protector. The police badge he wears is not only his job, it's his identity, so when he's sidelined because of an injury, the only thing he cares about is getting back on the force. He expects Lando to mend his body, he just doesn't realize the trainer will also have him working towards a hell of a lot more. As attraction simmers and flares, Dom sees that Lando needs repair of his own...if only the man will let him close enough to mend what's broken.
Built (Saints of Denver #1)
by Jay Crownover (Goodreads Author)
Publication Date: January 5, 2016
From the New York Times and USA Today bestselling author of the Marked Men books comes an electrifying new spin-off series,Saints of Denver, featuring all the characters fans have been dying to read about.

Sayer Cole and Zeb Fuller couldn't be more different. She's country club and fine-dining, he's cell-block and sawdust. Sayer spends her days in litigation, while Zeb spends his working with his hands. She's French silk, he's all denim and flannel.

Zeb's wanted the stunning blonde since the moment he laid eyes on her. It doesn't matter how many smooth moves he makes, the reserved lawyer seems determinedly oblivious to his interest—either that or she doesn't return it. Sayer is certain the rough, hard, hot-as-hell Zeb could never want someone as closed off and restrained as she is, which is a shame because something tells her he might be the guy to finally melt her icy exterior.

But just as things start to heat up, Zeb is blindsided by a life altering moment from his past. He needs Sayer's professional help to right a wrong and to save more than himself. He can't risk what's at stake just because his attraction to Sayer feels all consuming. But as these opposites dig in for the fight of their lives, battling together to save a family, the steam created when fire and ice collide can no longer be ignored.
Jay Crownover is the New York Times and USA Today bestselling author of the Marked Men series. She also introduced the dark and sexy world of The Point that started with BETTER WHEN HE's BAD and is currently working on her newest series The Saint of Denver. Like her characters, she is a big fan of tattoos. She loves music and wishes she could be a rock star, but since she has no aptitude for singing or instrument playing, she'll settle for writing stories with interesting characters that make the reader feel something. She lives in Colorado with her three dogs.