Welcome to our tour stop for November 9 by Colleen Hoover! November 9 is amazing and I hope you decide to pick up a copy after reading my review!
Atria is also providing an amazing giveaway, so make sure you enter! Good luck!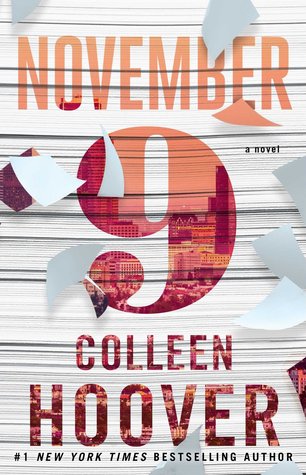 November 9
Author: Colleen Hoover
Publication Date: November 10, 2015
Publisher: Atria Books
Pages: 336
Source: Publisher
Format: Paperback ARC
Age Group: Adult
Genre: Contemporary Romance
Beloved #1 New York Times bestselling author Colleen Hoover returns with an unforgettable love story between a writer and his unexpected muse.

Fallon meets Ben, an aspiring novelist, the day before her scheduled cross-country move. Their untimely attraction leads them to spend Fallon's last day in L.A. together, and her eventful life becomes the creative inspiration Ben has always sought for his novel. Over time and amidst the various relationships and tribulations of their own separate lives, they continue to meet on the same date every year. Until one day Fallon becomes unsure if Ben has been telling her the truth or fabricating a perfect reality for the sake of the ultimate plot twist.
Atria Books Paperback | 320 pages | ISBN: 9781501110344 | November 10, 2015 | $16.00
eBook: 320 pages | ISBN: 9781501110351 | $7.99
I just finished reading November 9 a few hours ago and I can't stop thinking about Fallon and Ben. When I tell you that I was a hot emotional mess the entire time I was reading NOVEMBER 9, I am not exaggerating. I am telling you the truth! One minute I was like this: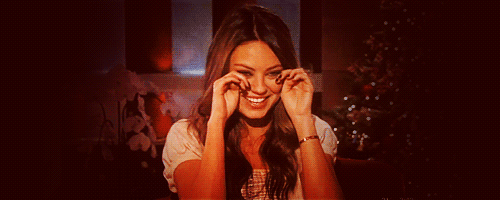 The next:
Then:
Yes, That was me right there. I legit went and got some ice cream from the freezer and ate it while I read through "those" parts. A mess I tell ya! But this is expected from Colleen. Just like having one of your favorite Game of Thrones characters killed off by George R. R. Martin. One thing is for certain though, I wouldn't change a thing! In my opinion, I love and treasure a book when it brings out every emotion out of me. That just means I relate to the characters and I feel everything they are going through.
Romance:
It's Colleen, of course there is romance! I have to admit there wasn't a lot of sex in NOVEMBER 9, but the love was palpable. I got butterflies in my stomach when Ben kissed Fallon. (His kisses will ALWAYS be a 10 in my book). My heart hurt and I cried right along with them. THAT my dear friends, is what a great book is all about, and Colleen is a master at doing just that.
Characters:
It's Colleen, of course the characters are all going to me memorable! She is the the best at making her readers fall in love, with not only the main characters, but the secondary ones as well! Plus, I think Ben is my new book boyfriend, so please remember that when you read November 9 and start to fall for him as well. He is mine. Seriously, I am not kidding, he is MINE!
Twists:
There is an awesome surprise in November 9 for all of Colleen's fans. But that is all I am going to tell you because I don't want to spoil it for you. You just have to read the book like me in order to find out! (*evil laugh*)
Ending:
You all know I love ALL of Colleen's books. I love the fact that she brings out so many emotions out of me when I am reading one of her novels. It's only because I know she will always give me a HEA, that I continue to torture myself. So with that being said, rest assured and trust Colleen. She knows how to mend our poor little hearts in the best possible way.
Colleen Hoover is the #1 New York Times bestselling author of Slammed, Point of Retreat, This Girl, Hopeless, Losing Hope, Maybe Someday, and Finding Cinderella. She lives in Texas with her husband and their three boys.
Colleen Hoover is also hitting the road for her book tour! Here are the dates and cities she plans on visiting:
5803 E Northwest Hwy
Dallas, TX 75231
2692 Madison Road
Cincinnati, OH 45208
26 S. La Grange Rd.
La Grange, IL 60525
211 E. Ridgewood Avenue
Ridgewood, NJ 07450
230 Main Street
White Plains, NY 10601
265 Aragon Avenue
Coral Gables, FL 33134
279 Harvard St
Brookline, MA 02446
126 N. Larchmont Blvd.
Los Angeles, CA 90004