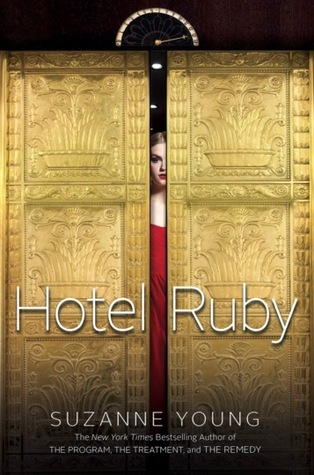 Title:
Hotel Ruby
Author:
Suzanne Young
Publisher:
Simon Pulse
Release Date:
November 3rd 2015
Pages:
288
Format:
ARC
Source:
ALA
Age Group:
Young Adult
Genre:
Contemporary
Stay Tonight. Stay Forever.

When Audrey Casella arrives for an unplanned stay at the grand Hotel Ruby, she's grateful for the detour. Just months after their mother's death, Audrey and her brother, Daniel, are on their way to live with their grandmother, dumped on the doorstep of a DNA-matched stranger because their father is drowning in his grief.

Audrey and her family only plan to stay the night, but life in the Ruby can be intoxicating, extending their stay as it provides endless distractions—including handsome guest Elias Lange, who sends Audrey's pulse racing. However, the hotel proves to be as strange as it is beautiful. Nightly fancy affairs in the ballroom are invitation only, and Audrey seems to be the one guest who doesn't have an invite. Instead, she joins the hotel staff on the rooftop, catching whispers about the hotel's dark past.

The more Audrey learns about the new people she's met, the more her curiosity grows. She's torn in different directions—the pull of her past with its overwhelming loss, the promise of a future that holds little joy, and an in-between life in a place that is so much more than it seems…

Welcome to the Ruby.
It was on July 28th that I got my hands on Hotel Ruby thanks to Ana. I eat, breathed and slept with Hotel Ruby, even my dog wanted to read this book.
Suzanne Young took me on quit an adventure. My mind was blown from start to finish while reading Hotel Ruby. The whole time I kept guessing at what would happen and each time I got it wrong. Seriously you think you know but you really don't.
First off I would never take a room on the thirteenth floor so I applaud Audrey for taking it and not saying hell to the no. Audrey is the main character of Hotel Ruby and to say she was freaked out at times is putting it mildly. When Audrey wasn't freaking out she was she was seeking out reasons as to why strange things were occurring in the hotel and yeah you'll be shocked at all the discovers you'll be making.
Suzanne Young can write anything and I would love it to pieces. Hotel Ruby was creepy and mysterious and I advise that you read this book at night because things at night are so much scarier.