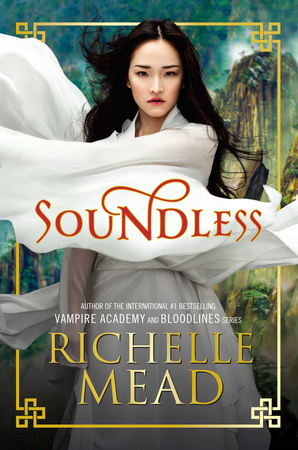 Title:
Soundless
Author:
Richelle Mead
Publisher:
Razorbill
Release Date:
November 10th 2015
Pages:
272
Format:
ARC
Source:
ALA
Age Group:
Young Adult
Genre:
Fantasy
From Richelle Mead, the #1 internationally bestselling author of Vampire Academy and Bloodlines, comes a breathtaking new fantasy steeped in Chinese folklore.




For as long as Fei can remember, there has been no sound in her village, where rocky terrain and frequent avalanches prevent residents from self-sustaining. Fei and her people are at the mercy of a zipline that carries food up the treacherous cliffs from Beiguo, a mysterious faraway kingdom.




When villagers begin to lose their sight, deliveries from the zipline shrink and many go hungry. Fei's home, the people she loves, and her entire existence is plunged into crisis, under threat of darkness and starvation.




But soon Fei is awoken in the night by a searing noise, and sound becomes her weapon.




Richelle Mead takes readers on a triumphant journey from the peak of Fei's jagged mountain village to the valley of Beiugo, where a startling truth and an unlikely romance will change her life forever...
Richelle Mead has created an entirely different world in her new novel and I absolutely loved every page of it.
I didn't know Soundless was Ancient China folklore until I finished the book and Richelle mentioned it in her authors note. Now that I've had my first taste of this epic fantasy folklore, I want WAY more.
The characters at the top of the mountain in Beijou can't hear, the use sign language as their means to communicating and some are even going blind due to unknown reasons that you'll find out once you read the book.
I really liked the main character Fei; she was fierce, loyal, and scared of the unknown but that didn't stop her. She didn't run away from doing what needed to be done to help her people have a better life! Fei had an amazing heart and I really wish this was a series because I wouldn't mind reading more about her and all of her adventures! And also the romance, I was like a chocolate melting, the scenes between Fei and a certain someone had me squeeing so so so hard.
Everything about Soundless was beautifully done. The writing was rich and vibrant and I was easily lost in the tale Richelle Mead was spinning. I hope that Richelle Mead writes more folklore because she pulled it off flawlessly!