Rebel Spring changed EVERYTHING; talk about unexpected twist and turns. Some of the things that happened I was so NOT expecting. I mean that marriage scene was just crazy. What was your favorite part of Rebel Spring? Let me know down below =)

Gathering Darkness will have just as many twist and turns as Rebel Spring so bring out the tissues and fans so be ready Alejandra.

Also I can't believe that Frozen Tides releases in 2 more weeks. JUST 2 MORE WEEKS AHHHH



In GATHERING DARKNESS, book three of the New York Times bestselling Falling Kingdoms series, the stakes have never been higher as three teams push forward on a race to find the Kindred, the four elemental crystals possessing ancient all-powerful magic, first:

Prince Magnus has just witnessed torture, death, and miracles during the bloody confrontation that decimated the rebel forces. Now he must choose between family and justice as his father, the cruel King Gaius, sets out to conquer all of Mytica. All Gaius needs now are the Kindred - the four elemental crystals that give godlike powers to their owner. But the King of Blood is not the only one hunting for this ancient, storied magic...

• THE KRAESHIANS join the hunt. Ashur and Amara, the royal siblings from the wealthy kingdom across the Silver Sea, charm and manipulate their way to the Kindred, proving to be more ruthless than perhaps even the King of Blood himself.

• THE REBELS forge ahead. Princess Cleo and vengeful Jonas lead them, slaying with sweetness, skill, and a secret that can control Lucia's overpowering magic - all so they can use the Kindred to win back their fallen kingdoms.

• THE WATCHERS follow Melenia out of the Sanctuary. They ally in the flesh with King Gaius, who vows to use Lucia's powers to unveil the Kindred.

The only certainty in the dark times is that whoever finds the magic first will control the fate of Mytica... but fate can be fickle when magic is involved.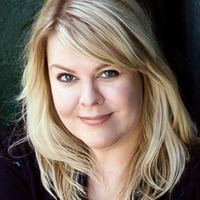 Morgan Rhodes lives in Ontario, Canada. As a child, she always wanted to be a princess -- the kind that knows how to wield a sharp sword to help save both kingdoms and princes from fire-breathing dragons and dark wizards. Instead, she became a writer, which is just as good and much less dangerous. Along with writing, Morgan enjoys photography, travel, reality TV, and is an extremely picky, yet voracious reader of all kinds of books. Under another pen name, she's a national bestselling author of many paranormal novels. Falling Kingdoms is her first high fantasy.