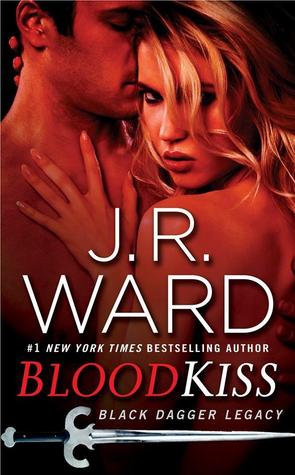 Blood Kiss (Black Dagger Legacy #1)
Author: J.R. Ward
Publisher: Signet
Publication Date: December 1, 2015
Source: Publisher
Pages: 397
Format: Mass Market Paperback
Age Group: Adult
Genre: Paranormal/Romance
The legacy of the Black Dagger Brotherhood continues in a spin-off series from the #1 New York Times bestselling author…

Paradise, blooded daughter of the king's First Advisor, is ready to break free from the restrictive life of an aristocratic female. Her strategy? Join the Black Dagger Brotherhood's training center program and learn to fight for herself, think for herself…be herself. It's a good plan, until everything goes wrong. The schooling is unfathomably difficult, the other recruits feel more like enemies than allies, and it's very clear that the Brother in charge, Butch O'Neal, a.k.a. the Dhestroyer, is having serious problems in his own life.

And that's before she falls in love with a fellow classmate. Craeg, a common civilian, is nothing her father would ever want for her, but everything she could ask for in a male. As an act of violence threatens to tear apart the entire program, and the erotic pull between them grows irresistible, Paradise is tested in ways she never anticipated—and left wondering whether she's strong enough to claim her own power…on the field, and off.
YESSSSS!! Blood Kiss is exactly what made me fall in love with the Black Dagger Brotherhood series. The romance, the characters and all of those funny moments. After so many books released in the series, things got a little repetitive and boring. Don't get me wrong, this series will forever be my favorite adult paranormal series, ever, but I was honestly getting bored. I managed to read The King at the beginning of this year right after The Shadows released, but I have yet to read it. I was going to wait a while to actually read it to see if things started to pick up, but after reading Blood Kiss, I am super excited to see where all of this is going. Blood Kiss is a spin-off of The Black Dagger Brotherhood series, and can be read as a standalone if you wanted to, but I suggest you start with the BDB series first. I promise you will fall in love with the Brothers. Fair warning, Zsadist is all mine!
In a time where vampires are being slaughtered left and right, the Brotherhood have decided to train other vampires to join their fight against the Lessers. This is unprecedented, but it has to be done in order to save the race from distinction.
In Blood Kiss, we get to meet the first group of teens that made it past the crazy survival test that Butch and V came up with. Many tried out, but only a small group made it through. I would have liked to have seen some more crazy tests after the ones from the first day though. Paradise, blooded daughter of the king's First Advisor, Abalone, is one of the trainees and things aren't exactly what she expected. She feels like the outcast, but she can't turn back now, this is her only way out of the Glymera. Plus, she can't tell her dad since he isn't too happy that she signed up in the first place. But there is something else bothering her, or should I say, someone else and his name is Craeg. There is a connection between them, but neither of them want to admit it even though they can't seem to stay away from each other.
Butch and Marissa are going through a rough patch. After a girl shows up at Marissa's women's safe house all beaten up and about to die from the injuries, Marissa and Butch start having issues. But all that Marissa wants is to find out who did this to that poor girl and save her marriage. It just gets hard when Butch refuses to communicate with her about his own issues and demons he has to deal with.
I loved everything about Blood Kiss. BDB readers will relive every moment that made the original series so special. The Warden definitely nailed this one! I can't wait to see what happens next!