The Winner's Trilogy has got a new look.
I haven't read this series so I'm okay with the cover changes since I'm not emotionally invested but I know A LOT of other readers prefer the original covers.
You never know maybe the publisher will release the original hardcover later on.
Title: The Winner's Curse
(The Winner's Trilogy #1)
Author: Marie Rutkoski
Publisher: Farrar Straus Giroux
Release Date: March 4th 2014
Age Group: Young Adult
Genre: Fantasy
Winning what you want may cost you everything you love...

As a general's daughter in a vast empire that revels in war and enslaves those it conquers, seventeen-year-old Kestrel has two choices: she can join the military or get married. But Kestrel has other intentions.

One day, she is startled to find a kindred spirit in a young slave up for auction. Arin's eyes seem to defy everything and everyone. Following her instinct, Kestrel buys him—with unexpected consequences. It's not long before she has to hide her growing love for Arin.

But he, too, has a secret, and Kestrel quickly learns that the price she paid for a fellow human is much higher than she ever could have imagined.

Set in a richly imagined new world, The Winner's Curse by Marie Rutkoski is a story of deadly games where everything is at stake, and the gamble is whether you will keep your head or lose your heart.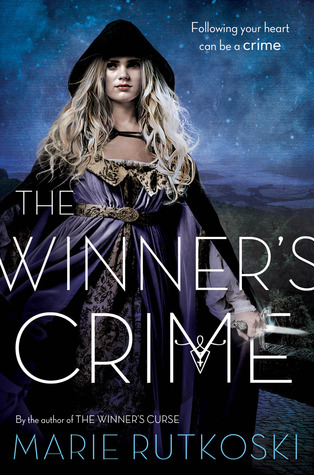 Title
: The Winner's Crime
(The Winner's Trilogy #2)
Author: Marie Rutkoski
Publisher: Farrar Straus Giroux
Release Date: March 3rd 2015
Age Group: Young Adult
Genre: Fantasy
Following your heart can be a crime
A royal wedding means one celebration after another: balls, fireworks, and revelry until dawn. But to Kestrel it means living in a cage of her own making. As the wedding approaches, she aches to tell Arin the truth about her engagement: that she agreed to marry the crown prince in exchange for Arin's freedom. But can Kestrel trust Arin? Can she even trust herself?

Kestrel is becoming very good at deception. she's working as a spy in the court. If caught, she'll be exposed as a traitor to her country. Yet she can't help searching for a way to change her ruthless world...and she is close to uncovering a shocking secret.

This dazzling follow-up to The Winner's Curse reveals the high price of dangerous lies and untrustworthy alliances. The truth will come out, and when it does, Kestrel and Arin will learn just how much their crimes will cost them.
Title: The Winner's Kiss
(The Winner's Trilogy #3)
Author: Marie Rutkoski
Publisher: Farrar Straus Giroux
Release Date: March 1st 2016
Age Group: Young Adult
Genre: Fantasy
War has begun. Arin is in the thick of it, with the East as his ally and the empire as his enemy. He's finally managed to dismiss the memory of Kestrel, even if he can't quite forget her. Kestrel turned into someone he could no longer recognize: someone who cared more for the empire than for the lives of innocent people—and certainly more than she cared for him. At least, that's what he thinks.

But far north lies a work camp where Kestrel is a prisoner. Can she manage to escape before she loses herself? As the war intensifies, both Kestrel and Arin discover unexpected roles in battle, terrible secrets, and a fragile hope. The world is changing. The East is pitted against the West, and Kestrel and Arin are caught between. In a game like this, can anybody really win?
Marie Rutkoski is the author of The Kronos Chronicles, including The Cabinet of Wonders and The Celestial Globe. The Cabinet of Wonders, her debut novel, was named an Indie Next Kids' List Great Read and a Bank Street Best Children's Book of the Year, among other honors. Rutkoski grew up in Bolingbrook, Illinois (a suburb of Chicago), as the oldest of four children. She attended the University of Iowa, where she took Writers' Workshop classes and studied with Pulitzer Prize-winner James Alant McPherson. After graduating, she lived in Moscow and Prague. Upon receiving her Ph.D. from Harvard University, she held dual appointments as a lecturer there in both English and American Literature and Language, and History and Literature. Rutkoski is currently a professor at Brooklyn College, where she teaches Renaissance Drama, children's literature and creative writing. She lives in New York City with her husband and cat.