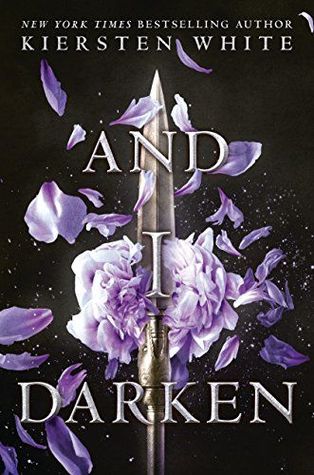 AND I DARKEN
By Kiersten White
Delacorte Press | On sale June 28, 2016 | Ages 12 and Up
Hardcover ISBN: 978-0-553-52231-0 | $18.99 / $24.99 (Can.) | 496 pages
NO ONE EXPECTS A PRINCESS TO BE BRUTAL. And Lada Dragwlya likes it that way. Ever since she and her gentle younger brother, Radu, were wrenched from their homeland of Wallachia and abandoned by their father to be raised in the Ottoman courts, Lada has known that being ruthless is the key to survival. She and Radu are doomed to act as pawns in a vicious game, an unseen sword hovering over their every move. For the lineage that makes them special also makes them targets.

Lada despises the Ottomans and bides her time, planning her vengeance for the day when she can return to Wallachia and claim her birthright. Radu longs only for a place where he feels safe. And when they meet Mehmed, the defiant and lonely son of the sultan, who's expected to rule a nation, Radu feels that he's made a true friend—and Lada wonders if she's finally found someone worthy of her passion.

But Mehmed is heir to the very empire that Lada has sworn to fight against—and that Radu now considers home. Together, Lada, Radu, and Mehmed form a toxic triangle that strains the bonds of love and loyalty to the breaking point.
Hi! I give the most awkward hugs in the world. I also write books. I'd opt for one of my books over one of my hugs. Lucky for you, I write a lot of them.
The New York Times bestselling Paranormalcy trilogy (Paranormalcy, Supernaturally, and Endlessly) is available now. Mind Games and its sequel Perfect Lies are also out, staring at you from a bookshelf. Intensely. An Egyptian mythology-based standalone, The Chaos of Stars, will keep you company on cold, dark nights. And Illusions of Fate, a dreamy historical fantasy, wants to be your new boyfriend. It's a really good kisser.
Coming soon is And I Darken, an epic historical based on a gender-swapped Vlad the Impaler. It's filled with love daggers, which are like love triangles only much sharper and way more likely to kill you.
Kiersten White Talks 'And I Darken,' Book One Of Her New Must-Read YA Trilogy with BUSTLE. Check out her interview
HERE
!