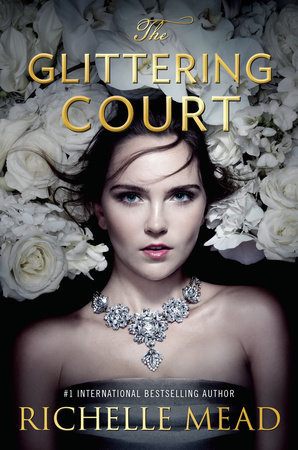 Title:
The Glittering Court
Author:
Richelle Mead
Publisher:
Razorbill
Release Date:
April 5th 2016
Pages:
168
Format:
Paperback
Source:
Soundless Preorder Incentive
Age Group:
Young Adult
Genre:
Fantasy
A dazzling new fantasy series set in a mix of Elizabethan and frontier worlds that's dripping with romance from Richelle Mead, #1 internationally bestselling author of Vampire Academy.

Big and sweeping, spanning the refined palaces of Osfrid to the gold dust and untamed forests of Adoria, The Glittering Court tells the story of Adelaide, an Osfridian countess who poses as her servant to escape an arranged marriage and start a new life in Adoria, the New World. But to do that, she must join the Glittering Court.

Both a school and a business venture, the Glittering Court is designed to transform impoverished girls into upper-class ladies capable of arranging powerful and wealthy marriages in the New World. Adelaide naturally excels in her training and even makes a few friends: the fiery former laundress Tamsin and the beautiful Sirminican refugee Mira. She manages to keep her true identity hidden from all but one: the intriguing Cedric Thorn, son of the wealthy proprietor of the Glittering Court.

When Adelaide discovers that Cedric is hiding a dangerous secret of his own, together, they hatch a scheme to make the best of Adelaide's deception. Complications soon arise—first, as they cross the treacherous seas from Osfrid to Adoria, and later, when Adelaide catches the attention of a powerful governor.

But no complication will prove quite as daunting as the potent attraction simmering between Adelaide and Cedric. An attraction that, if acted on, would scandalize the Glittering Court and make them both outcasts in wild, vastly uncharted lands. . . .
I had the pleasure of reading the exclusive sneak peek of The Glittering Court; those 11 chapters were life. Seriously. It took me three days just to get through them because I was reading REALLY slowly and enjoying every aspect of this new fascinating world. 11 chapters of The Glittering Court. Wow. I still can't believe I read that much.
With the sneak peek offered, I basically got the gist of who the main and second characters are and what they will do to secure their roles in a society that Richelle Mead has so eloquently created. And believe me when I say I'm already in love with how this story is going. SO MUCH INTRIGUE AND COMPETITION AND I CAN'T HELP BUT LOVE IT.
The main character Adelaide may seem as if she's just a rich brat but behind her façade she is someone who just wants to make her own decision about her life. Once you read further into the book you'll understand more of why she leaves her privileged way and you will even be cheering for her when she embarks on her new life which better include Cedric because I'm shipping those two like crazy already.
I swear Richelle Mead can do no wrong and The Glittering Court was no exception. I mean the sneak peek offered had me wanting the whole book which I think was the whole point because now that I've preorder my copy I am counting down the days until the release. I can also already tell that The Glittering Court might be one of my favorites from 2016 so make sure this book stays on your radar.
The Glittering Court has swept me away and I can't wait to read the rest of this story. Also if you haven't already, make sure you read those 11 chapters
HERE
!