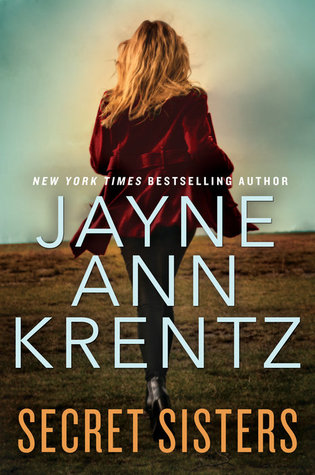 Title: Secret Sisters
Author: Jayne Ann Krentz
Publisher: Berkley
Release Date: December 8, 2015
Pages: 352
Format: Hard Copy
Source: Berkley
Age Group: Adult
Genre: Romantic Suspense Contemporary
Madeline and Daphne were once as close as sisters—until a secret tore them apart. Now it might take them to their graves.

They knew his name, the man who tried to brutally attack twelve-year-old Madeline in her grandmother's hotel. They thought they knew his fate. He wouldn't be bothering them anymore...ever. Still their lives would never be the same.

Madeline has returned to Washington after her grandmother's mysterious death. And at the old, abandoned hotel—a place she never wanted to see again—a dying man's last words convey a warning: the secrets she and Daphne believed buried forever have been discovered.

Now, after almost two decades, Madeline and Daphne will be reunited in friendship and in fear. Unable to trust the local police, Madeline summons Jack Rayner, the hotel chain's new security expert. Despite the secrets and mysteries that surround him, Jack is the only one she trusts...and wants.

Jack is no good at relationships but he does possess a specific skill set that includes a profoundly intimate understanding of warped and dangerous minds. With the assistance of Jack's brother, Abe, a high-tech magician, the four of them will form an uneasy alliance against a killer who will stop at nothing to hide the truth.
Let me begin by saying that I am not really into mystery books or movies! They are just a little to scary for me. However when I saw the cover for this book, I could not help but feel intrigued and anxious to get my greedy hands all over it. This is my first read by Jayne Ann Krentz and I must say I thoroughly enjoyed this romantic, suspenseful, mysterious novel. The novel is full of twists and turns that will keep you wanting to dig more and more into the lives of these wonderful characters. Madeline and Daphne were best friends who believed to be more like "secret sisters" when they were younger. Unfortunately due to a horrific event, they each parted ways and went on living separate lives until their past nightmare resurfaces into existence. In fact eighteen years later the secrets they both felt were lo
ng buried and forgotten somehow come back to hunt them. These secrets place Madeline and Daphne in great danger. But thankfully, the "secret sisters" are not alone. They have Madeline's head of security, Jack Rayner and his brother Abe watching out for them. Knowing that they have their protection, makes Madeline feel safe and secure even though I believe deep down in her heart she knows they are in great danger!
Forced to deal with the current situation they are handed, Madeline and Daphne have no choice but to attempt to solve the mystery. I really enjoyed reading this novel because you really can sense the connection between Madeline and Daphne. And throughout the horrific ordeal they encountered, you can see their relationship flourishing and healing. Their support for one another is something that really caught my attention because the circumstances behind their history is not an easy pill to swallow. I also thought that Ms. Krentz did a outstanding job of keeping the past hidden secrets current by providing the information of the storyline almost at the very beginning. This helps keep the reader interested and able to keep up with all of the changes in this well-written romantic mystery. Anyway, the main focus for the "secret sisters" is to try to figure out who keeps stirring up the past and with what intentions. In fact it's hard to imagine who could reveal the past besides the five who swore to secrecy?
This read will not disappoint and is full of danger, twists and turns that will keep the reader determined and focused on finding out the truth behind it all. "Secret Sisters" is also full of drama, mystery, and most importantly in my opinion romance. Jack and Madeline were each strong characters with romantic issues that the reader can totally relate to. Together they understood their pasts and didn't attempt to pressure one another. Jack is strong, protective, and very much a strong-minded character in this read. Madeline appreciates his protectiveness and his expertise in the dangerous situations they find themselves in throughout the read. Daphne and Abe on the other hand are totally different. Their romance was more towards the back burner, and not as intense as the other two characters in this read. However, their story is just as enjoyable in my humble opinion. This will definitely not be my last read by Jayne Ann Krentz! I am looking forward to reading more satisfying mystery novels in the near future!