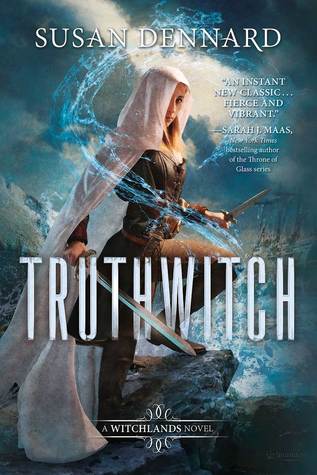 Title:
Truthwitch
Author:
Susan Dennard
Publisher:
Tor Teen
Release Date:
Janurary 6th 2016
Pages:
416
Format:
Paperback ARC
Source:
Publisher
Age Group:
Young Adult
Genre:
Fantasy
On a continent ruled by three empires, some are born with a "witchery", a magical skill that sets them apart from others.

In the Witchlands, there are almost as many types of magic as there are ways to get in trouble—as two desperate young women know all too well.

Safiya is a Truthwitch, able to discern truth from lie. It's a powerful magic that many would kill to have on their side, especially amongst the nobility to which Safi was born. So Safi must keep her gift hidden, lest she be used as a pawn in the struggle between empires.

Iseult, a Threadwitch, can see the invisible ties that bind and entangle the lives around her—but she cannot see the bonds that touch her own heart. Her unlikely friendship with Safi has taken her from life as an outcast into one of reckless adventure, where she is a cool, wary balance to Safi's hotheaded impulsiveness.

Safi and Iseult just want to be free to live their own lives, but war is coming to the Witchlands. With the help of the cunning Prince Merik (a Windwitch and ship's captain) and the hindrance of a Bloodwitch bent on revenge, the friends must fight emperors, princes, and mercenaries alike, who will stop at nothing to get their hands on a Truthwitch.
Truthwitch released yesterday!!!!!

Ever since I saw that Susan Dennard had a new book about fantasy I just knew I had to read it. The day the cover and description released I was like "yup I need you asap."
I thought I would have to wait until release day to be able to read Truthwitch but . . . Ana worked her magic and before I knew it, I had an arc of Truthwitch in my hands and I was one happy reader.
I dived into Truthwitch and it was as great as I hope it would be.
Truthwitch was full of twist and turns that had me reading at every possible moment. Seriously, I took the book with me EVERYWHERE and I am not ashamed.
Safiya
Iseult
Merik
Auedan
I loved everything about those four characters. They each had their own journey and I'm glad Susan Dennard didn't just make it about one particular character. Each of her characters are important and have their own problems to figure out and with every new page it had me wanting to know more and more about what would happen to them because you just want the best for them. I love when an author can make me feel so much for their characters. I just wanted to jump into the book and be their friends, ha! I'll let you in on a secret, those four characters are all badass and when they collided it was EPIC.
Susan Dennard can write fantasy like no ones business and this just proves that the force is strong with her (I've been rewatching Star Wars.) The action scenes had me wishing that one day the book rights will be sold because yeah, I would love to see all the fights on my tv screen.
Also, there's this one scene in the book that had me fanning myself. There's a dance and yeah, it's totally sexy and I ship those two characters like crazy already.
I'm calling it now, The Truthwitch series is going to be one of my favorite fantasies ever! I can't wait to read the sequel. BRING ON JANUARY 6, 2016
Truthwitch was one of my most anticipated releases of this year and I am over the moon that it's finally out in the world! So after you finish reading this make sure to head out to your local bookstore a pick up a copy or hey, even purchase the ebook. Trust me everyone needs Truthwitch =)