WOOHOO. Hi. Hello. Welcome to our stop on the Into the Dim Blog Tour, i'm beyond excited to have you all here.
I hope you enjoy my review and that it convinces you to buy the book when it releases =)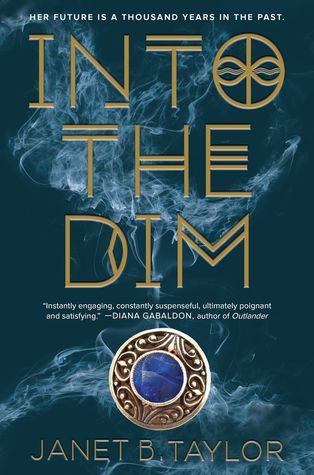 Title: Into the Dim
Author: Janet B. Taylor
Publisher: HMH Books for Young Readers
Release Date: March 1st 2016
Pages: 432
Format: Paperback ARC
Source: Publisher
Age Group: Young Adult
Genre:
Sci-Fi
When fragile, sixteen-year-old Hope Walton loses her mom to an earthquake overseas, her secluded world crumbles. Agreeing to spend the summer in Scotland, Hope discovers that her mother was more than a brilliant academic, but also a member of a secret society of time travelers. Trapped in the twelfth century in the age of Eleanor of Aquitaine, Hope has seventy-two hours to rescue her mother and get back to their own time. Along the way, her path collides with that of a mysterious boy who could be vital to her mission . . . or the key to Hope's undoing.

Addictive, romantic, and rich with historical detail, Into the Dim is an Outlander for teens.
Find Into the Dim here:
Goodreads I
Amazon
I
Barnes & Noble
I
iBooks
Before I start on my review, I have a confession to make. The beautiful cover of Into the Dim is what drew me in initially, not even going to lie about that. But then I read the description and was instantly sold.
."Great fuzzy sheep balls" Into the Dim was amazing and everything I could have hoped for; if I could give more than 5 stars I would because this story is seriously epic. Janet B Taylor took me on one hell of a ride! From start to finish the story unfolds at a rapid pace and I loved every single page. Not once did I want to skim anything, I was like the main character Hope in that aspect, I absorbed everything with gusto!
Into the Dim starts off with Hope attending her mother's funeral, which if you asked me is intense for a first chapter because I was having all these feelings and whatnot. Then for reasons, you'll find out in the book, Hope is off to Scotland to stay with her aunt for the summer and as soon as Hope arrives at her aunt's manor things starts to unfold.
Hope was very secluded during her childhood and teen years. She didn't have friends or even go out because her time was spent learning, learning, and learning. So when Hope is thrust into this new dangerous world where she only has 72 hours to save her mom I was a bit worried for her. Hope had a few fumbles here and there but her determination to save her mother at any cost was admirable and brave. Also along the way Hope finds true friendship and maybe even a sweetheart and ugh I was so happy for her to have all those things.
I'm not one for time traveling books, the ones I've read have been okay and they usually bore me with the overload of information but Janet B Taylor did a unique thing with her time travelers that I absolute loved; she mixed history with science and it was bloody brilliant. I mean I was on pins and needles eagerly awaiting to discover how everything worked and I was blown away with the mystery of it all.
Janet B Taylor's writing is flawless. Her eyes for detail is exquisite, she captured Scotland and London with such finesse that I was easily lost in her magical words and I did not want this book to never end.
Into the Dim is one of the best time-travelling books I have read and I'm so excited for everyone to read it. Trust me this is one of those books you won't want to miss.
The 2013 winner of the coveted #PitchWars, Janet B Taylor, has four years' experience writing web content for a major television network fan site (CBS) that garners over a hundred thousand hits a day. Janet travels extensively to those places where her novels are set, often roaming around at night to commune with the famous historical figures about which she loves to write. She is a member of several writing organizations, including the SCBWI and the Historical Novel Society, and lives in a tiny town in Arkansas with her family.
3 winners will receive a finished copy of INTO THE DIM
US only.